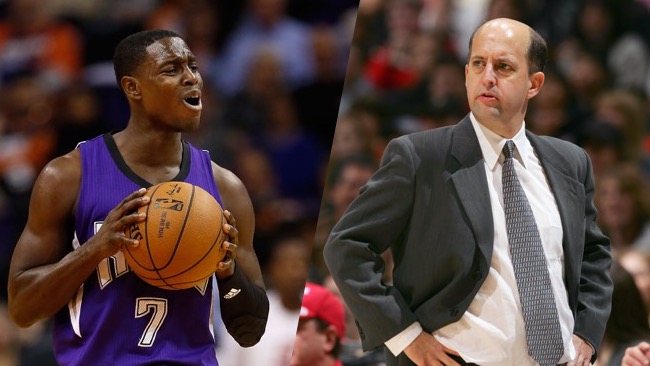 The NBA has done an excellent job at raising awareness and landing on the progressive side of social issues in America. They helped welcome the first gay athlete among the four major North American professional sports to come out while still being an active player. They've also doled out severe penalties for disparaging on-court remarks about homosexuals, while working with those players whose narrow world view needed some monumental expansion. But, because of their inclusive and progressive ethos, it's OK to ask for more on the social front, and that's what Jeff Van Gundy discussed with his commentating partner, Mark Jones, during last night's Knicks-Rockets preseason game on ESPN.
The subject of Derrick Rose was brought up because Rose was playing in his first game as a Knick. Without castigating before all the facts were in about Rose's civil trial and criminal rape investigation, Van Gundy adroitly pivoted to domestic violence. It was an important one for them to have, particularly in lieu of the eight-game suspension the NBA gave Kings guard Darren Collison after he pleaded guilty to misdemeanor domestic-violence charges.
The 2011 Collective Bargaining Agreement (Art. VI, Sec. 7) stipulates a minimum suspension of 10 games for violent felonies convictions or pleas, but Van Gundy said the NBA should suspend a player for a full year after the first domestic violence felony conviction or plea, and should be banned for life if it happens a second time.
In 2014, on the heels of Roger Gooddell's struggles with veracity, NBA commissioner Adam Silver suspended then-Hornets forward Jeff Taylor for 24 games after he pleaded guilty to a misdemeanor charge of domestic assault. Those 24 games ate up about $200,000 of his $915,00 salary that year, and NBPA head Michele Roberts publicly derided the length of the suspension because there had been no precedent (Even though it's true, it still feels like an insipid point for the players' union to even raise, especially with Ray Rice as such a big story and Michele so new to the job at the time, but she at least proved to the players she was tough enough to raise objections on a suspension that no one wanted to criticize because of the tenor of the national conversation on the subject).
Jeff is right, though, make the first felony domestic-violence conviction or plea an automatic one-year suspension and boot a player for good if he does it again. Remember, neither Collison or Taylor would have qualified (both were misdemeanors), but, while high mandatory minimums are often quite stupid in American jurisprudence as a result of the Sisyphean war on drugs, they aren't when you want to remain the most progressive sports league in the country.
Jeff ended his talk on the mandatory, season-long suspension by saying, "Let's be on the forefront of this."
Whenever the owners and Roberts get done hashing out the terms of the next CBA, a mandatory year-long suspension is the sort of harsh consequence they should reserve for men who willfully get violent with women. I think all basketball fans would want the NBA to be on the forefront of this.
(H/T SB Nation)