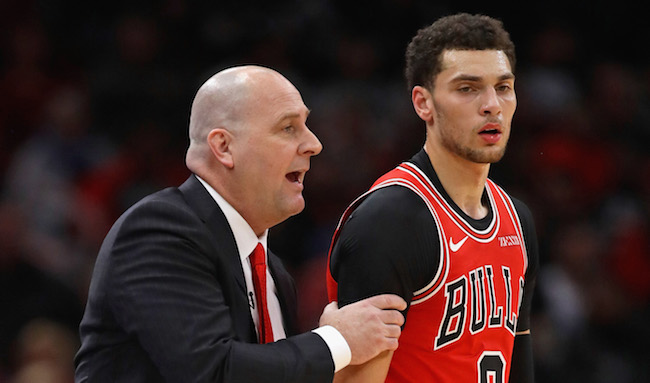 Jim Boylen has been the coach of the Chicago Bulls for less than a week, and it's very clear that he's trying to put his imprint on the team immediately.
The problem is, Boylen appears to be headed back to a Thibsian approach to coaching, driving players hard, being an intense disciplinarian when players make mistakes, and working them aggressively in practices. That's a departure from the way things have been under Fred Hoiberg, and there has unsurprisingly been some friction between he and the players as a result.
On Saturday night, the Bulls suffered their worst loss in franchise history to the Celtics, losing at home by a 133-77 final score. After the game, players appeared less than pleased with some of Boylen's decision making, most notably how he subbed out the entire starting five for a full bench unit and then, later, benched the starters for the majority of the second half. Boylen got defensive about his approach, citing Gregg Popovich as an example of a coach that's used full line change type rotations before.

On Sunday, Boylen planned on having a full practice despite Chicago just completing a back-to-back. However, players pushed back and the team ended up having a lengthy team meeting for more than two hours without ever stepping foot on the court. The meeting apparently began as a players only meeting, with coaches joining in later.

However, Boylen tried to dispute the idea that the meeting was the idea of the players and not him.

Boylen is clearly trying to wrangle control of the locker room and change the culture of the team to what he feels is necessary. That's understandable, but the way he's going about it certainly seems to be rubbing some members of the team the wrong way.
It's possible the meeting on Sunday can get everyone on the same page, but Boylen being defiant about who started the meeting isn't a great indicator of that being the case.
It will certainly be an interesting case to watch this season, because the Bulls have committed to Boylen through next year. They also have committed a lot of money to Zach LaVine as the face of the franchise, and he's been among those that seems to be confused by the new coach's approach. Maybe the Bulls can rally together and figure things out, but it seems just as likely that we end up with rampant dysfunction and a rift between players and coach in Chicago.