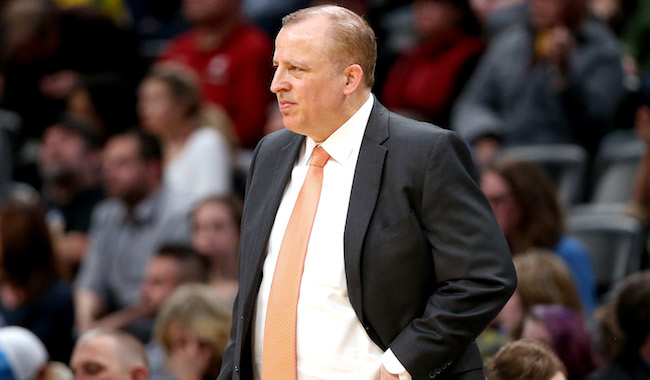 Jimmy Butler routinely ranks among the NBA's leaders in minutes per game. As a result, the Minnesota Timberwolves star carries a big-time workload and has for several years. With that in mind, Butler missing time with even a slightly mysterious injury brings alarm bells and, on Monday evening, the All-Star swingman missed his second consecutive game with what is being described as a sore right knee.
Prior to tip-off against the Clippers in Los Angeles, Wolves head coach Tom Thibodeau was asked about Butler's knee and, after an awkward exchange, he essentially skirted the topic of whether Butler underwent an MRI on the injury.
Thibodeau is well known for pushing his players to limits that most NBA coaches wouldn't even consider and, as evidenced by Nick Friedell's reaction in the background of the video in question, there is a comedic factor to his "he may have" response. Still, it is also a bit strange that Thibodeau would not provide a direct answer to what was a yes or no question (and one with a relatively harmless answer in terms of the existence of the procedure) and the immediate future may indicate quite a bit with regard to the health of Butler's knee.
The Wolves continue a west coast swing on Wednesday with a game in Portland and, if Jimmy Butler isn't available to play in that contest, the questions won't simply cease.