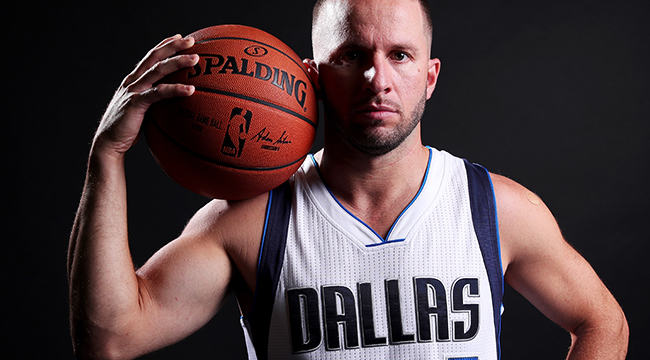 LOS ANGELES – J.J. Barea sprinted up the court and heaved a prayer. For a brief moment, it looked like it could be right on line, but it grazed the backboard and bounced harmlessly away. The Lakers escaped a one-point win over the Mavs, but they'll be seeing Barea in their nightmares as he took advantage of some of the team's younger defenders with a variety of drives, crafty maneuvering, and slight of hand.
His numbers against the Lakers the past few seasons are modest, but his impact has been felt greatly. Since 2014-15 (his return to Dallas), he's averaged 9.9 points and 5.5 assists in a reserve role on 47.5 percent shooting vs. Los Angeles. This includes seven double-digit scoring games and four with at least seven assists.
"The Lakers have always preferred conventional big men who protect the paint but can't hedge high on ball-screens," Pete Zayas of Laker Film Room says, "As a result, they're vulnerable to guards who can hit pull-up jumpers and floaters. Barea is just carrying on the tradition of small guards who torture the Lakers, like Mike Bibby and Troy Hudson before him."
While the Mavs haven't won a playoff series in Barea's second stint with the team, he's still offered a calming hand to a team that has shuffled veterans in and out and largely had to face a youth movement they staved off for as long as they could.
At 34, Barea is the third-oldest player on the team behind 35-year-old Devin Harris and the immortal Dirk Nowitzki (40). He commands a second unit that includes Dwight Powell, Dorian Finney-Smith, Max Kleber, and Jalen Brunson, whose combined service time averages out to a player entering their third season in the league. For the slow-starting Mavericks, while it's critical rookie Luka Doncic and second-year player Dennis Smith Jr. make big strides, it's just as important that the bench mob maintains some sense of stability for the team to improve on its 24 wins from a year ago.
That starts and ends with Barea.
"I feel like J.J. is the ultimate pro, so it's not just the Lakers he plays well against," DeAndre Jordan said after the 114-113 loss on Wednesday. "I think he plays well all the time. He's such a great playmaker, getting guys like Dwight involved and Maxi [Kleber], our young guys, Jalen, and Dodo [Dorian Finney-Smith]. Those guys play really well together and he's the head of the snake out there, so when we have him healthy and aggressive, we're a really good team and our second unit's really great."


So what makes Barea so effective at this age, despite lacking elite size or athleticism? It's a bit of basketball osmosis, as he's added to his basketball rolodex over time. He sees the game incredibly well, poking and prodding and seeking out his opportunities (similarly to other floor general point guards like Chris Paul or Steve Nash), and knows when to exploit a switch to feed a big or curl for a layup. He's terrific at finding angles and recognizing when defenses are slow to rotate.
That's earned him trust and stability in Rick Carlisle's rotation even if there are younger, more traditional options available.
"You wouldn't think someone his age at his size would still be getting real minutes in today's NBA," NBA Canada content producer Scott Rafferty says, "but he's a crafty player who plays to his strengths. The two strengths in particular that have helped him play this long are his effectiveness from midrange and his ability to play off-ball as a three-point shooter. The former has helped him and Dirk Nowitzki torch second units for years and the latter gives Rick Carlisle the flexibility of playing him alongside other ball handlers, such as Dennis Smith Jr., Luka Doncic, Devin Harris etc."
The on-off numbers in particular are a good example of this. See 2017-18:

It's not markedly drastic, but the uptick in field goal percentage at most distances tends to support the hypothesis that Barea generally gets his team better shots. For this season, his value is tied to a variety of factors: staying healthy, making the most of minutes with young stars like Smith and Doncic, and taking care of the basketball when he's on the floor. Barea sports a close to 5:1 assist-to-turnover ratio so far this season (although he was loose with the ball against the Lakers, turning it over four times), and it's going to be critical to see how he plays when staggered with the starters and not just the bench.
"First of all just staying healthy," Barea says of how he's able to produce at this level in his 13th NBA season. "But second of all now the way I read the game, my IQ for the game is awesome compared to where I used to be when I was younger. It helps me big time, and this intuition I have, with the coach I got, it feels super comfortable."
While it's only natural for a player's game to decline over time, some are able to continue to reinvent themselves. Barea has always been at a relative disadvantage due to his stature, so he's had to see the game differently and push himself to contribute in other ways, whether it's from the three-point line or with his passing or in his role as a veteran in the locker room.
Carlisle relies on his leaders to set the tone, and with a slow 2-6 start, things are not where Dallas wants them to be. But Barea is convinced the Mavs haven't played even close to their best basketball yet. Integrating Doncic into the fold and allowing him to make mistakes will be critical, as will unlocking Smith's potential and figuring out the defense (which has struggled despite bringing Jordan to Dallas in his age 30 season).
"That's what I'm saying about staying positive," Barea says. "That's how we're got to pick each other up, you know. And still get a healthy shot more than ever. At some point we're going to get some wins going and we're going to get some good stretches because we got the talent."
That talent wasn't enough to push the Mavs past the Lakers on Wednesday, but it might be enough to allow Barea to build his book of basketball a bit more, all while continuing to cause trouble for other teams.