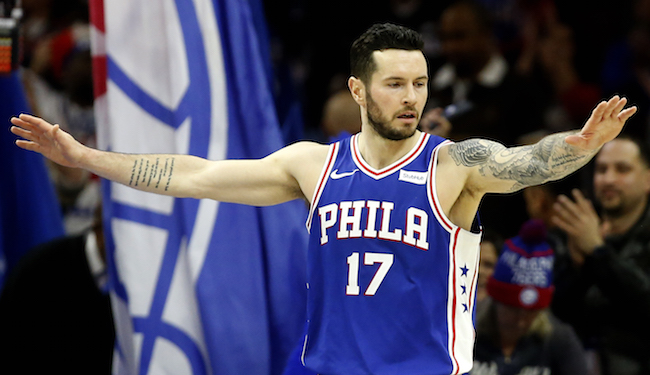 The Sixers have exceeded expectations this season, riding the wave of young talent led by Joel Embiid and Ben Simmons to a 39-30 record which is currently good for sixth in the East.
Along with their dynamic young star duo, Philadelphia has gotten strong contributions from a mix of young role players like Dario Saric and Robert Covington, as well as veterans like J.J. Redick, who signed a 1-year, $23 million deal in the offseason. While there was some initial sticker shock at Redick's deal this summer, it made sense for the Sixers to shell out big money for one year to land a quality veteran to help accelerate their rebuild and take the next step in The Process.
To this point, that signing has worked out quite well as Redick has given the Sixers some much-needed floor spacing, shooting 41.2 percent from three-point range while averaging a career-high 16.7 points per game. Redick also plays a pivotal role in the locker room as one of Philadelphia's few veterans with postseason experience, which could prove helpful as the Sixers move into their first playoff appearance in years.
If nothing else, one thing Redick can impart to some of his younger teammates is the importance of a routine as a professional athlete, although the others in the Philly locker room probably do not need to try and be quite as meticulous as Redick is on a day-to-day, minute-to-minute basis.
Scott Cacciola of the New York Times published a feature on Wednesday that detailed Redick's routine and how he has his entire day planned out to the minute during the season — and how any alterations to that schedule cause him anxiety and throw him off. A player having a set warmup routine is nothing new, especially for shooting specialists (Kyle Korver's regimented warmup is also legendary), but Redick's days are scheduled out from the moment he wakes up to when the game tips.
Redick goes through the same post-practice/shootaround routine that includes a set number of made shots and trips to the hot tub and cold tub (and hot tub again) before a two-hour nap in the middle of the day; he is described in the piece as an "expert napper," which is a title I strive to achieve one day.
From there, Redick eats the same dinner of "roasted chicken, baked potato, asparagus or broccoli and a cup of coffee" every evening at 4:30 p.m. and gets ready for the actual pregame routine within the all-day routine. When the pregame clock hits 90 minutes, Redick tells Cacciola "it's on."
He starts by spending 25 to 30 minutes with Scott Epsley, the team's physiotherapist, who focuses on Redick's hips, ankles and shoulders.

Redick then does about 15 minutes of dynamic stretching with Wright, the strength coach. Redick cycles through six devices — dumbbells, a weighted tube, a balancing plate, a large inflatable ball, a blue cushion and an elastic band — before he picks up two basketballs and holds each aloft as he crosses his right leg over his left leg, then vice versa. Redick said the maneuver ignites his hips.

…

He proceeds to shoot for six minutes, another nuanced routine that he caps by sinking consecutive "game-winners," as he calls them — the first moving to his left, the second to his right.

He returns to the locker room with about 35 minutes 5 seconds showing on the countdown clock, giving himself seconds to spare before Brown delivers his pregame talk. Redick grabs two heat packs, an electrolyte drink and the same type of granola bar that he has been consuming before every game since 2012.

"It tastes like cardboard at this point," he said.
While a professional athlete having a daily routine or even strict pregame rituals isn't unique to Redick, he certainly seems to take it to the extreme. Redick says the intense nature of his routine provides him with control that is otherwise tough to find in the world of sports because randomness plays such a role in games, and so many things that happen on the floor are out of his control.
The entire piece from Cacciola is fascinating and well worth your time, if for nothing else to learn some of the strange idiosyncrasies of an NBA player. For the young Sixers, seeing this kind of discipline could help them as they are all learning how to be pro athletes and manage their time, but they can probably mix up their dinners and allow for some day-to-day changes Redick isn't willing to.