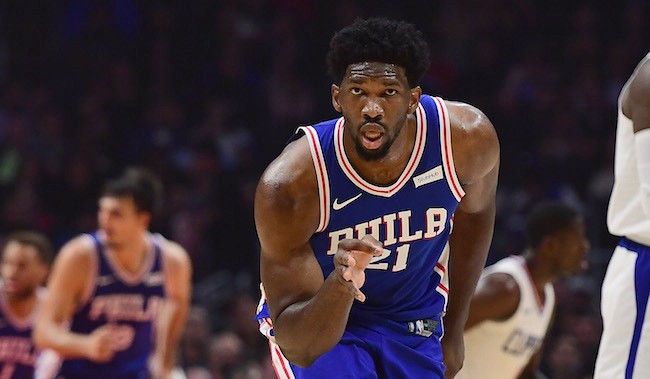 If you didn't stay up late Wednesday night to watch Joel Embiid's performance against the Lakers, you missed quite the show from one of the league's transcendent young stars. The Sixers' center set new career highs in, well, just about everything in a 115-109 win over the Lakers, cementing his status as one of the league's best centers, with the potential to be the best in quite some time.
Embiid posted an absurd 46-point, 15-rebound, seven-assist, seven-block stat line, while shooting an equally ridiculous 14-of-20 from the field and absolutely torching the Lakers' frontcourt. He seemed able to, at will, get to wherever he wanted on the floor, via a litany of post moves with his back to the basket and facing up. When in doubt, he'd simply catch a Lakers' defender reaching and, like a gigantic James Harden, sweep his arms through the contact to get to the free throw line.
Even when accounting for the opponent, watching Embiid on Wednesday night was one of the most impressive performances of the early season. His dominance and ability to have complete control over a basketball game when he wants to is the kind of thing reserved for very few superstars.
Embiid isn't just an enigma on the court, but off it too, and his walkoff interview following his stunning performance in Staples Center was yet another example of his incredible personality and understanding of what makes social media tick. First, Philly native Kevin Hart crashed the interview to chant "Trust The Process" at Embiid and dap him up, in a hilarious visual as Hart looked like a middle schooler compared to the monstrous Embiid.

However, it was Embiid's answer to a question about what his health status is that really showed how much he gets it when it comes to what the internet wants.
He thought about saying he's "about 50 percent" before upgrading himself to a very nice "69 percent," pointing out his conditioning still needs some work. He's an absolute treasure, and, as expected, had some jokes for LaVar Ball after the game on Instagram.