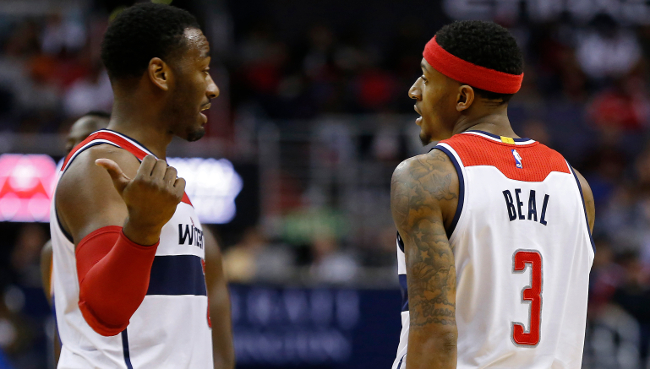 After a brief period of optimism on the strength of three consecutive victories, the Washington Wizards are, once again, struggling. Scott Brooks' team has dropped two straight to compile an ugly 5-11 record on the campaign and, while the Eastern Conference does provide a theoretical path to playoff contention, Washington hasn't looked the part of a team ready to make an extended run.
With that as the backdrop, Adrian Wojnarowski of ESPN reported on Monday morning that Washington's front office has "started to deliver teams an impression that every player on their roster" is available in trade talks, with the headline inclusion of John Wall and Bradley Beal.
On the surface, it isn't overly surprising that the Wizards would at least consider deals involving their top two players, even with ESPN's caveat that the Wizards prefer to "reshape the team around Wall and Beal." If the team decides that a significant change is needed, it is hard to envision that kind of big swing coming without the inclusion of one of their star guards, particularly amid rumblings that Otto Porter and Kelly Oubre have little value in the market.
The issue, however, is that Wall's contract is painfully onerous in the future, beginning with a four-year extension that kicks off in 2019-2020. The All-Star guard is owed more than $170 million over that four-year period and, while Wall remains a quality player, it appears unlikely that he will be a positive value on the deal as he approaches his 30s.
As for Beal, he would almost certainly command a significant return and, in terms of seeking a clear path forward, the Wizards wouldn't have a difficult time moving him. With that said, Beal is the team's best future-facing asset by a wide margin at the age of 25 and any deal involving him would be perilous as a result.
The Wizards may not pull the trigger on a deal involving either of their cornerstone guards but the mere presence of a report like this is both interesting and potentially damning with regard to how the franchise sees itself in mid-November. Things aren't going well, and even a net negative change is something that shakes things up.