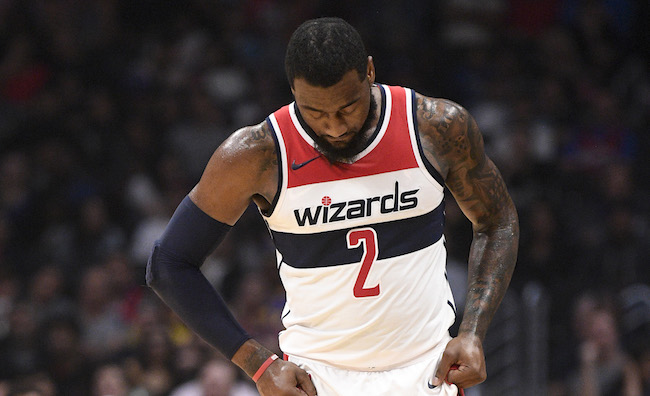 It's been a rough season for the Washington Wizards, which got off to a brutal start to the year and currently sit at 13-23. The bottom of the Eastern Conference hasn't been great, though, so Washington is only 4.5 games back of the No. 8 spot and a potential berth in the postseason.
However, some potentially devastating news surfaced on Saturday afternoon that would make the Wizards' push for a playoff spot exponentially harder. According to Candace Buckner of the Washington Post, Wall met with a foot specialist about potentially getting surgery on a pesky left heel injury. The report was confirmed by Shams Charania of The Athletic.

Wizards coach Scott Brooks had already told reporters that Wall was going to see a specialist for the issue, one with which he's struggled for years, but apparently, things have gotten so bad recently that surgery is now on the table.
According to Charania, Wall is currently leaning towards getting the procedure, but a final decision has not been made, while Adrian Wojnarowski of ESPN reports that Wall does indeed plan on going the surgical route.

It's a major decision for Wall and for Washington. On one hand, he is their superstar point guard, and if they are indeed going to make a push for the playoffs, having him on the floor is a gigantic boost. On the other, this has looked like a bit of a lost season for the Wizards, and if Wall going under the knife is the best long-term decision — especially because his four-year contract extension worth more than $169 million starts next year.