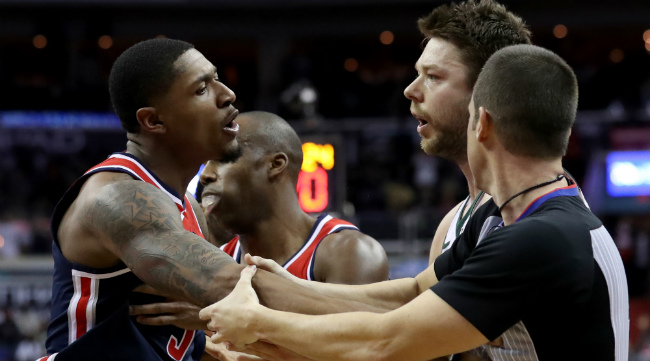 Tensions boiled over on Saturday night during the Milwaukee Bucks' trip to Washington. While the Bucks managed to come out on top, walking out of the Wizards' building with a 110-103 win behind 34 points from Giannis Antetokounmpo, there was some controversy stemming from a fourth quarter altercation involving Matthew Dellavedova and Bradley Beal.
The Wizards pulled down a defensive rebound, which triggered a fast break. The ball eventually made its way up to Beal, who looked like he was going to blow by Dellavedova and get an easy layup.
Instead, Dellavedova decided to intentionally foul one half of Washington's dynamic backcourt. Only instead of wrapping him up, Dellavedova's arm went a bit too high and caught Beal in the throat, taking him down with a rather vicious clothesline.

Beal went down really hard, and he was understandably not happy with how this whole thing played out. Dellavedova appeared to put his arms out to try and apologize after Beal hit the deck, and the veteran guard tried to plead to the officials that he did not mean anything malicious when he made contact with his opponent. But as everyone knows, making contact with an opponent's head/neck like this is going to lead to an ejection 11 times out of 10, especially with how hard Beal went to the ground.
After the game was over, the press caught up with Beal's backcourt mate, John Wall, who was not willing to give Dellavedova the benefit of the doubt and went as far as to call him a dirty player.

Dellavedova does have a reputation for being "physical" and "scrappy" and all those other words that mean "borderline dirty," but Wall was apoplectic after watching what happened to his teammate. He even went on to continue calling out Dellavedova, and had some choice words about the official and how they handled the situation.
Wall is never afraid to speak his mind, and to the surprise of no one, that was the case after one of his teammates got clotheslined.