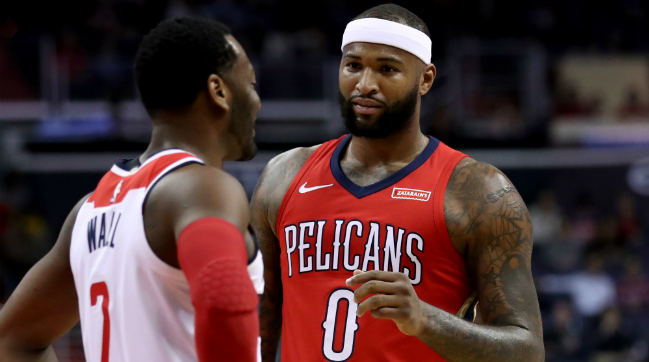 The Golden State Warriors' decision to sign DeMarcus Cousins one day after LeBron James joined the Los Angeles Lakers stunned the basketball world. No one saw the move coming, including one of Cousins' closest friends and former teammates at the University of Kentucky, as John Wall was apparently blindsided by the move.
Wall is doing his annual offseason video series with Ballislife.com, which follows him around as he gets prepared for the upcoming season. The first video of the 2018 series starts with the clip of Wall learning about Cousins' decision, and as it turns out, he had the same reaction that basically everyone else had.
Later in the video, Wall gives a more nuanced take regarding Cousins heading to Golden State.

"Yeah, for sure," Wall said when asked if he's happy for Cousins. "Everybody's getting mad at him, but that's my brother. Like, he's gotta do what's best for him. He's banking on himself for one year to try and get himself healthy."
Wall also pointed out that it's a smart move for Cousins, as other teams might need him to suit up before his injured achilles will let him take the floor. The Warriors, meanwhile, can let him get back to 100 percent before he has to contribute. Add in that going to Golden State means he has a shot at getting his first championship, and despite his initial reaction, Wall is happy with his former college teammate's decision.