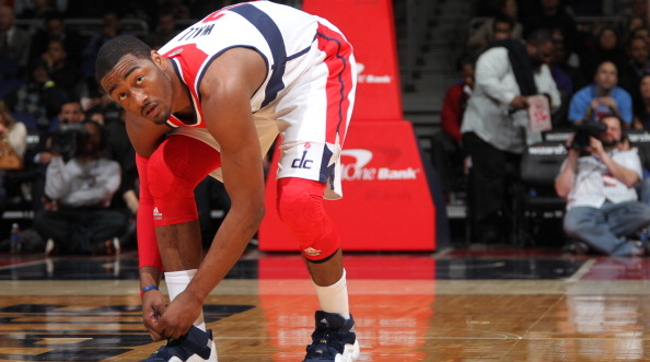 It wasn't that long ago that John Wall was one of the most exciting players in the NBA. The Wizards guard used his mix of speed and athleticism to pick apart defenses by getting to the rim and finding teammates in passing lanes. These skills earned Wall one of the most lucrative contracts in the NBA, a supermax extension.
Wall signed the extension back in 2017 and this will be the first season it takes effect. At the time it felt like Wall was pushing the NBA towards a new era where the supermax was going to become the norm for keeping young stars in the same location, but that hasn't been the case. Only Wall, James Harden, Stephen Curry, Russell Westbrook, and Damian Lillard have signed one so far, with multiple players, like new Clippers teammates Kawhi Leonard and Paul George, either passing on the opportunity to sign one by requesting trades before one can even be offered.
In an interview with The Athletic, Wall was asked for his thoughts on the recent trend from players to not take a supermax. For Wall, that was never a thought that even crossed his mind.
"Everybody got their own decision, but where I come from, it's "I ain't turning down no money." It's just as simple as that. I'm going to keep it real with you. Without the money, I'm still going to play the game the way I love to play it because that's what I love to do.
…
I play because I love it, but I'm not turning down that kind of money. One, I love where I'm at. I love D.C. My loyalty is to D.C. To hear a lot of Wizards people, Tommy (Sheppard, the new general manager), (managing partner) Ted Leonsis and (Monumental Sports and Entertainment senior vice president) Zach Leonsis and all those guys, the whole community is behind me, and they're not giving up on me, so that's big for me. I'm not one of those guys that wants to play for multiple teams. I want to play for one organization."

There is absolutely nothing wrong with Wall's mindset on the supermax. Some players prefer to focus on seeking out the best basketball situation and that might mean giving up on money. Wall isn't as concerned about chasing rings and instead wants to be in the place where he's happy and comfortable on and off the floor, hoping to build a contender in Washington.. That's how he chooses to pursue his career, and it's just unfortunate for him that the situation on the floor hasn't been great.
A series of injuries has left the once exciting and consistently playoff bound Wall on the bench. With Wall's injuries, the team has fallen out of the playoffs and poor roster moves by Ernie Grunfeld's regime has left the new front office having to assess all the ways to get out of their current situation. One way could be a trade involving an expensive contract such as Wall's. Clearing that money off the books would give the Wizards far more flexibility in the future, but as Wall told Michael Lee, the Wizards will have to make the trade on their own. He isn't going to ask for it.
"Never will you hear me ask for a trade. The only way I'm going to get traded from D.C. is if they want to trade me themselves. And that's one thing I think the fans will appreciate if they ever get to that point. I'm never one of those guys that want to chase a ring or do those things."
Wall seems committed to finishing out his time with the Wizards on his own terms. So far, Washington has remained committed to him as well. Some of that is because of how difficult it is to get a star like what Wall was at his peak, but it also has to do with his contract. Teams can't just trade for Wall easily as matching the money for Wall is extremely tough. The Thunder managed to pull it off in trading Russell Westbrook to Houston, but they had to take on Chris Paul's monster contract to do it — and it remains to be seen whether they can move off of that in a timely manner.
Washington and Wall will both talk about their commitment to each other, which is the right thing to do, but even if the relationship soured, it will be prohibitively difficult for them to part ways. Hopefully for both parties, he can come back healthy and productive and they can build around Wall and Beal to return to the playoff party in the East.