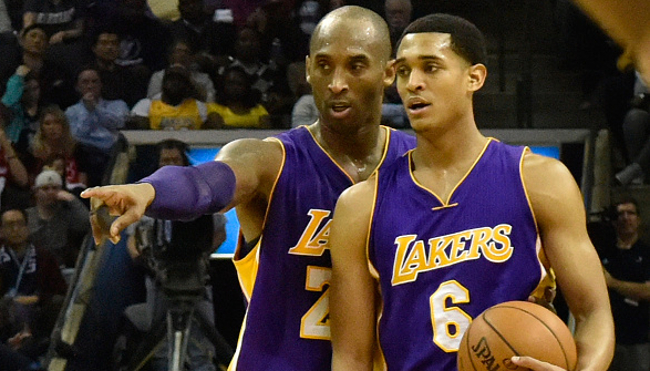 Jordan Clarkson is just 25 years old, but here in his fourth season in the NBA, he's been blessed with opportunities that many players can only dream about. The first came on draft night in 2014 when, as a late second-round pick of the Wizards, he was traded to the Lakers, one of the most storied franchises in NBA history.
He spent his first two seasons under the tutelage of Kobe Bryant, during which he quickly established himself as a serious scoring threat. Now, after a trade deadline deal that sent him to the Cavs, he's playing alongside another all-time great in LeBron James.
Clarkson joined the CavsHQ radio show earlier this week where he talked about what it's like being an understudy to players like Kobe and LeBron, and he had some pretty telling things to say about how the two differ in terms of their respective leadership philosophies and motivational tactics with their teammates.
(Skip to the 12-minute mark)
"Two different styles of leadership. LeBron is very encouraging, bringing everybody along. And Kobe, he's testing you, seeing what you gonna give him. He's gonna get at you, he's gonna scream at you, he's gonna cuss, do whatever it is. He had his own way of leading guys as well, so it's two different sides. I'm just blessed to see both of them."
None of that is very surprising. Kobe has always been notorious for abusing his teammates verbally and mentally, although Clarkson seems to have emerged relatively unscathed.
He certainly seems to be thriving now under LeBron, but his biggest test is yet to come as LeBron and the Cavs have their eyes set on a return to the NBA Finals this spring. That will be unchartered territory for Clarkson and many of the other young and talented players Cleveland acquired at the trade deadline, and LeBron will undoubtedly hold them to high expectations to carry their weight come playoff time.