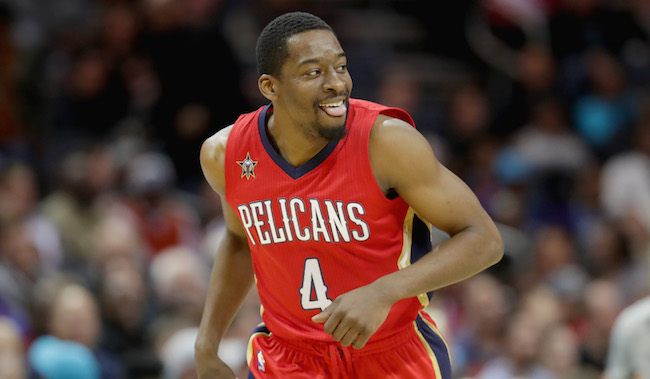 Jordan Crawford has had a fascinating NBA career, spending time in Atlanta, Washington, Boston, and Golden State before finding himself out of the league for two seasons, spending some time in China and the G League. He returned last year as a member of the injury depleted New Orleans Pelicans where he proved that he can still get buckets.
Crawford was waived in the first week of the season by New Orleans, but rejoined the Pelicans in early April on a contract that keeps him there through the playoffs. Where he'll be next year remains a mystery, but it appears as though Steezus is ready to commit to a sneaker company that, like him, is known for turning heads in interesting ways.
According to Yahoo's Shams Charania, Crawford is in talks with Big Baller Brand about an endorsement deal and has been wearing the company's sneakers since returning to the Pelicans. He's the first NBA player not named Lonzo Ball to wear BBB sneakers in NBA action, so this is a fairly big deal for the company.

He's not currently under contract, but the one reportedly being discussed is very loose in its restrictions on Crawford, which could be something that makes it appealing.
At this point it isn't a normal endorsement deal for Crawford, but he would sign a contract with Big Baller Brand down the line that would allow him to be under the brand yet have the freedom to pursue his own personal endeavors.
This isn't a major surprise considering LaVar Ball happily let Lonzo wear other brands' sneakers during Summer League, and it might be a selling point Big Baller Brand hopes to make to future players as well. So many sneaker contracts are, understandably, strict about what the player can wear on and off the court, so for those that enjoy wearing sneakers of all kinds and won't be high up the chain for Nike, adidas, Jordan, and the rest, it's possible BBB could be enticing.
Hopefully Crawford gets a deal done before he's forced to move on to a new team, because the last time he got cut by the Pelicans he was especially hurt because he had just ordered some sneakers to his place in New Orleans.