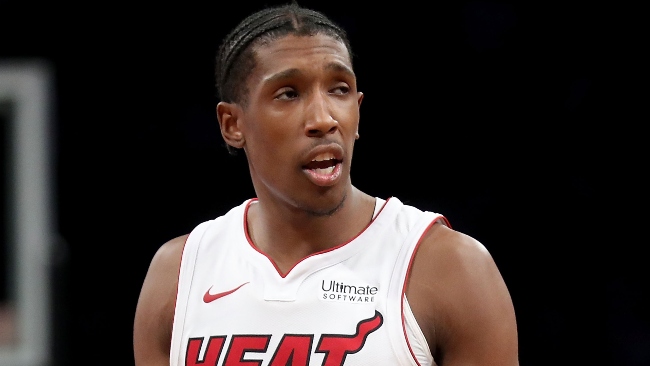 The Miami Heat really want to acquire Jimmy Butler. As for whether the Minnesota Timberwolves want to trade their star guard, well, that's not exactly clear, but if the Heat's brain trust had its way, the negotiations that have occurred between themselves and the Wolves would have ended in a deal being struck by now.
A report over the weekend indicated that the teams were on the cusp of something working out, but ultimately, Minnesota balked, with the rumbling being they wanted to get more back from Miami. There's no word on what the Heat offered on that exact deal, but thanks to Marc Stein of the New York Times, we now know the centerpieces of a potential deal that were put on the table.
Stein wrote in his weekly newsletter about Minnesota's notoriously indecisive owner, Glen Taylor. In it, he added a note that the Heat put together a package that was highlighted by fourth-year wing Josh Richardson, which the Timberwolves did not accept.
That the talks collapsed twice in such a short span should be surprising to no one who has followed the Wolves throughout Taylor's quarter-century of ownership. The same Taylor who held onto Kevin Garnett and then-General Manager Kevin McHale for too long. Who allowed himself to be talked into hiring the thoroughly ill-prepared David Kahn as McHale's replacement. Who could have escaped his Butler nightmare by accepting a package from Miami that would have been headlined by the promising Heat swingman Josh Richardson and a protected first-round pick.

The report was confirmed by Barry Jackson of the Miami Herald, who also pointed out that the money wouldn't quite work if just Richardson was being sent to Minnesota for Butler.
Getting both Richardson and a first, even a protected one, would be a decent return for Butler, who as Jackson notes can become an unrestricted free agent at the end of this season. Richardson has turned into a good player ever since he was selected in the second round of the 2015 NBA Draft, as the 25-year-old wing averaged 12.9 points in 33.2 minutes per game while being a stout defender last season. He's also in the first year of a very team-friendly four-year, $42 million contract and still has room to grow.
The issue was likely who Miami was offering as contract filler, as the Timberwolves likely wouldn't want to take on someone like Dion Waiters' long-term salary. Still, Richardson might be the best possible player the Heat have to offer in a deal for Butler, but apparently, getting him, a pick, and someone to make the salaries work out isn't something that totally piques Minnesota's interests.