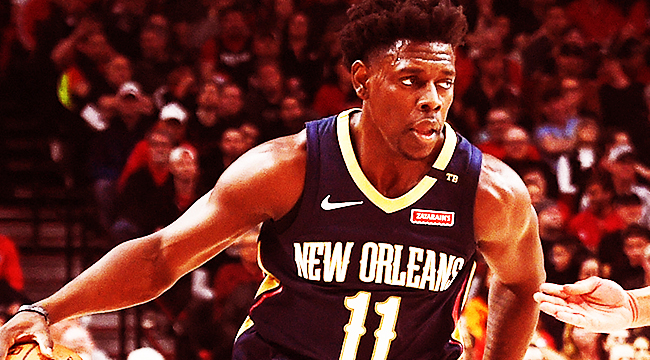 PORTLAND — Confidently walking through a tunnel in the Moda Center, Anthony Davis paused for a brief moment to compose himself before running out on the court to take on the Portland Trail Blazers in Game 2 on Tuesday. Davis' teammates had already run ahead of him and were beginning to warm up on the court. He however, remained behind and took a deep breath to seemingly weigh the task at hand before sprinting towards the floor.
For Davis, leading the Pelicans has been his main goal essentially since the franchise drafted him in 2012. Now nearly six years later, Davis had the opportunity to lead New Orleans to a 2-0 series lead over the Blazers, an outcome not many expected, especially since the Pelicans were playing on the road. But while Davis seized this opportunity by finishing with a double-double in New Orleans 111-102 win, it was his teammate, Jrue Holiday, who scored 33 points and was instrumental to the Pelicans' Game 2 victory.
Despite his strong play all season, Holiday has mainly flew under the radar this year due in large part to Davis' nightly MVP-like performances. Holiday however, has used the first round to re-establish himself in the minds of everyone tuning in.
"[Holiday] doesn't get a lot of credit because he's playing with AD," Portland guard C.J. McCollum says. "I think you're starting to see how good he truly is on both ends of the court."
McCollum's praise of Holiday may actually be a bit of an understatement as the Pelicans guard has simply been sensational in the first two games of the series. On offense, Holiday is averaging 27 points, 5.5 assists, and five rebounds while shooting a stellar 54.5 percent. But as great as Holiday has been offensively, he has truly made his mark on the series with the defense as he's been instrumental in limiting the offensive prowess of McCollum and Blazers All-Star guard Damian Lillard.


After averaging 26.9 points during the regular season, Lillard is averaging a playoff career-low 17.5 points in the series. He is also shooting a paltry 31.7 percent and 31.3 percent from three. Lillard's struggles offensively are a direct result of Holiday's incessant pressuring defense.
In Game 2 with Holiday primarily guarding him, Lillard shot 0-for-4 and had two turnovers. When Holiday has been the primary defender on Lillard for the series, the Blazers All-Star is 0-for-8. Plus Holiday isn't just negatively affecting Lillard. According to 538's Chris Herring, the Blazers as a team are shooting just 25 percent when being guarded by Holiday.
"In my opinion, I think he's one of the best defenders out there on the perimeter," Lillard says. "He's just playing well. He's big and crafty. He's impacting the game on both ends of the floor."
Lillard's opinion of Holiday is shared by Pelicans coach Alvin Gentry, who truly upped the ante with his praise.
"I may be a bit biased, but if you can tell me a better two-way player in the league right now, I'm willing to listen," Gentry says. "But what we ask him to do and the things we ask him to do offensively, he was just great tonight."
Gentry may have sounded like a broken record here because he made a similar boast after Game 1.
"I just think, like I've said, as far as a two-way player right now with Kawhi Leonard not dressed down and playing, I don't know if there's a better two-way player in the game," Gentry said after the 97-95 win. "We ask him to try to get 20 points of us every night and we also ask him to guard the best perimeter player on the other team regardless of the size or who it is."


Ever the team player, Holiday downplays Gentry's adulation. For Holiday, he is simply doing what Gentry and his teammates are asking him to and he chalks up to his strong play to being healthy this season, which was not the case last year.
"Honestly, man, I do what my team needs me to do," Holiday says. "Whatever they need me to do. No matter if it's defend, if it's score, if it's get other people involved, if it's to cheer from the sideline on the bench. Again, I just feel like I'm in a really good place right now and just blessed to be out there. I know I've been hurt for a minute so again, just blessed to be out there playing."
Holiday feels blessed to be playing right now because the last several years in New Orleans have been up and down for him.
After an All-Star season with the Sixers, Holiday was traded to New Orleans in 2013 and dealt with a variety of seemingly never-ending injuries that caused him to play in just 74 games in his first two years with the Pelicans. Then in 2016, Holiday took a leave of absence from the team after his wife, former U.S. national soccer team player Lauren Holiday, was diagnosed with a brain tumor while she was pregnant.
With his wife and himself now healthy, Holiday has been able to focus on basketball, which has led to his stellar play this season (career-high 19.0 points, 4.5 rebounds and six assists) and in the playoffs.
"My family's the most important thing to me, and with them being okay, I can come back to the team freely and be able to help them out now," Holiday says. "It's been fun. I feel like my teammates and the organization definitely helped me out coming back from things with my family, and even the injuries, with being able to play and being able to perform at the peak I'm performing."
The Pelicans are heading home to New Orleans for Games 3 and 4 with a golden opportunity to sweep the Blazers. Plus with Holiday playing like he has been, Davis has the necessary help that allows him to continue his MVP-like play while also leading the Pelicans.
"All [Holiday] wants to do is play basketball, Davis says. "Now that everything that was going on with him is squared away and doing fine, he's just focused on playing and he's playing at a high level."