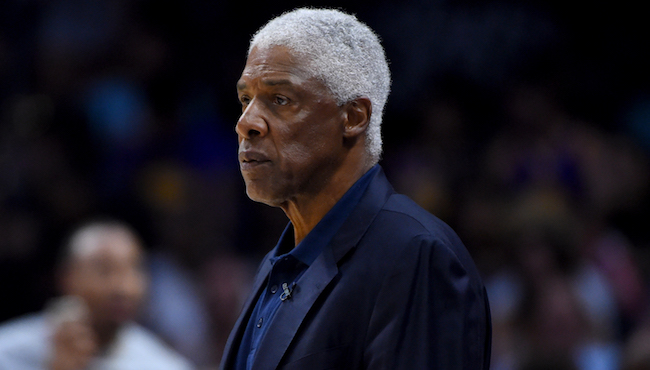 Friday night's on-court festivities went very well for the Philadelphia 76ers, as the team throttled the Detroit Pistons by a 36-point margin in front of the its hometown fans. In fitting fashion, the blowout victory took place 35 years to the day from arguably Julius Erving's most famous dunk, and in tribute to that and his overall impact, Dr. J was honored prior to the game.
Unfortunately, that was not the only piece of newsworthy information for the legendary figure, however, as the 67-year-old had to be transported to the hospital, as a result of an undisclosed illness.
The statement does not include any additional specifics, and hopefully, the expected release from the hospital will transpire without incident. Erving is, of course, one of the more well known players in the history of the league, and in addition to his incredible athletic prowess, he was a well-rounded athlete with four MVP awards, seven All-NBA nods and a mind-blowing 16 All-Star appearances in his career.
Updates will be passed along as they become available, but for now, fingers are crossed in the direction of Dr. J as he fights off whatever illness knocked him down at the Wells Fargo Center in Philadelphia.