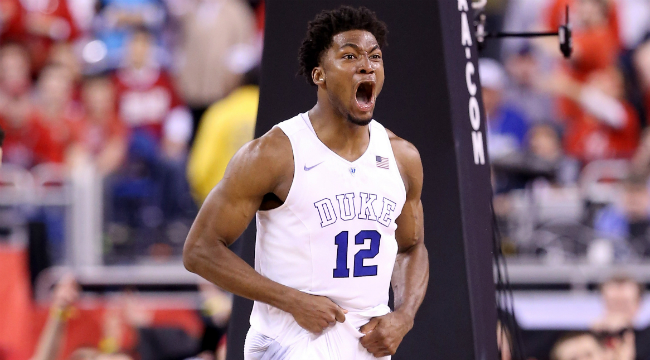 In mock drafts, athletic wing Justise Winslow was predicted by some to go as high as fourth overall to the New York Knicks, but when the picks started rolling, the Orlando Magic picked an athletic wing fifth overall — and it was Mario Hezonja. Then the Detroit Pistons picked an athletic wing eighth overall, and it was Stanley Johnson. Few predicted that Winslow would fall all the way to the tenth pick.
Winslow may be disappointed in his slot, but he's gotta be happy about where he ends up. Meanwhile, the Heat are doing backflips that he was available, especially considering that rumors were swirling that the Charlotte Hornets would trade the ninth pick, with Winslow being the obvious target for anyone moving in. But for whatever reason, the Hornets couldn't close a deal and picked Frank Kaminsky.
That left the Heat, who didn't dare to dream that one of the very best wings in the draft would still be there, filling perhaps their biggest need at small forward (depending on if Dwyane Wade stays or goes).