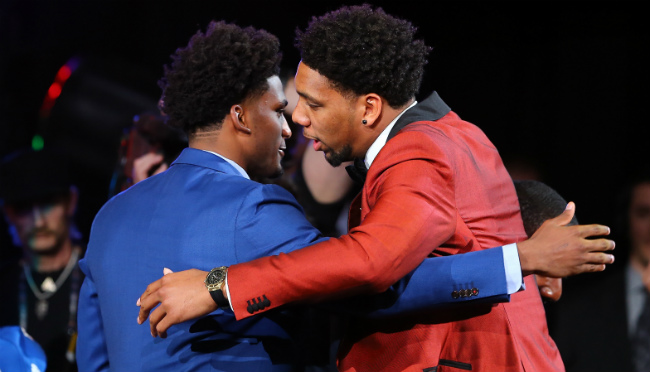 Justise Winslow and Jahlil Okafor will forever be tied to one another. This is because the two went to Duke together, won an NCAA Championship together, and were both top-10 picks in the 2015 NBA Draft — the Philadelphia 76ers selected Okafor third overall, while Winslow went seven picks later to the Miami Heat.
The success the pair had in college hasn't really translated to the pros. Okafor had a good rookie campaign, but saw his career stall out in Philly and was shipped to Brooklyn, where he has yet to make an impact as he's worked to get in game shape.
As for Winslow, there have been a few things, such as injury woes, that have played a role in his inability to make a consistent impact in Miami.

It has gotten to the point that ESPN's Zach Lowe reports Winslow and Okafor are being tied to one another again by NBA executives, only this time, it's not for a good reason.
Richardson jumped Winslow as Miami's small forward of the future, and James Johnson leapt him as their go-to small-ball power forward — Winslow's best role. Lineups with all three of Winslow, James Johnson, and Whiteside might be fatally short on shooting. Multiple rival executives labeled Winslow as Miami's version of Jahlil Okafor.
While Lowe says he thinks this comparison is "a little much," it still shows how far both Okafor and Winslow have fallen in the eyes of some.