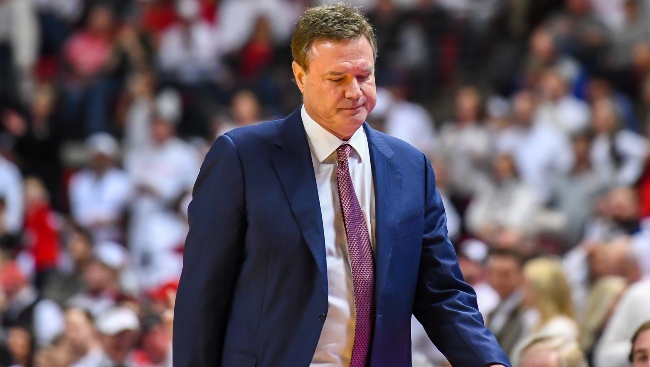 In this horrible whirlwind of an existence we all experience together, everything eventually comes to an end. Kansas basketball learned that the hard way on Tuesday night, as the 13th-ranked Jayhawks fell to Oklahoma in Norman, 81-68. Normally it wouldn't be a huge deal, but the loss marked the end of perhaps the most impressive streak in college basketball.
Losing knocked the Jayhawks to 11-6 in Big 12 play on the season, a very solid season but one that makes it mathematically impossible for Kansas to catch up to Texas Tech and Kansas State atop the conference. As such, the team's 14-year streak of winning at least a share of the Big 12 regular season championship came to an end.
The last time the Jayhawks were unable to win the conference was 2003-04. That year, Kansas went 20-7 and 12-4 in Big 12 play, putting them two games behind regular season champs Oklahoma State. Since then, the Jayhawks have been the top dog in the yard, including a national championship during the 2007-08 campaign.
Kansas was a bit susceptible to getting caught this season. Along with the two teams atop the conference, the Big 12 was loaded this year, as it's the second-best conference in the sport, per KenPom. Additionally, there was some general weirdness in Lawrence — star big man Udoka Azubuike had season-ending surgery in January, veteran wing Lagerald Vick took a leave of absence last month, and sophomore forward Silvio De Sousa has not appeared in a game due to an NCAA investigation.
There's no shame in the streak coming to an end, and it really was as impressive of a run as you'll find. Still, all Jayhawk eyes are now on the Big 12 and NCAA Tournaments, and for those in Lawrence, the hope is that a new streak will start next season.