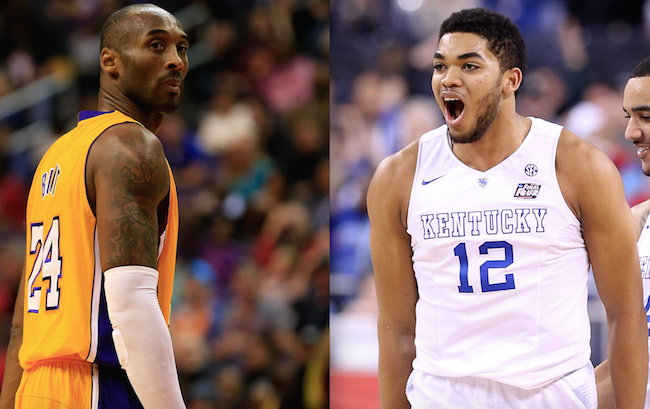 Karl-Anthony Towns doesn't have a choice when it comes to his playing future. Barring a minor shock, he'll be selected by the Minnesota Timberwolves or Los Angeles Lakers with the first or second pick, respectively, in the NBA draft later this month. And though the ever-diplomatic 19-year-old maintains he doesn't care where his career begins, it's also clear he'd love to be teammates with a certain living legend.
TMZ caught up with Towns in Los Angeles recently and asked if he'd like to play with Kobe Bryant. The Kentucky product's answer is sure to thrill millions of purple-and-gold clad fans across the country.
TMZ: You have the possibility of playing with Kobe – how do you feel about that?

Towns: That's the legend! Of course everyone wants to play with a legend…

TMZ: He's been known to go hard on his players, on his teammates, during practice. Are you worried about that at all?

Towns: No. That's what we gotta do to win a championship.
Bryant, of course, has faced increased scrutiny in recent months for his notoriously gruff style of leadership. A scathing report from ESPN last fall featured numerous sources blaming the future Hall-of-Famer's attitude for the Lakers' decline, and Milwaukee Bucks forward Jared Dudley said in a radio appearance just late last month that "guys don't want to play with Kobe."
Many players have gone on record dispelling that notion, but where there's smoke there's normally fire – it's safe to say some percentage of the league populace would rather have Bryant as an opponent than teammate. Towns, though, certainly won't be joining that group upon his official NBA admittance later this month.
Might he be the one to restore relevance to Los Angeles in what appears to be Mamba's final season? We'll find out soon enough, but Lakers fans should be salivating at that prospect in the interim.
[Via TMZ]