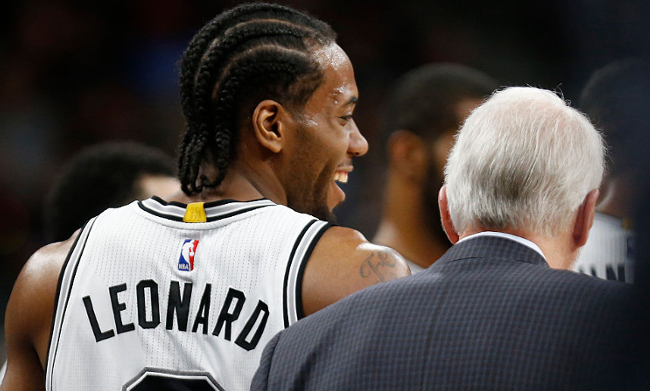 If people are taking it easy on Kawhi Leonard, perhaps it's because they're still surprised that he's so freaking good. After all, as Spurs coach Gregg Popovich recently revealed to The Score, he never even expected this 25-year-old to become the MVP candidate that he has been this season.
"No, I certainly did not see that… We saw his size and his athleticism, his work ethic, the way he practiced, the way he played, his toughness, so we made the decision," Popovich said of the 2011 draft night trade that sent George Hill to Indiana for Leonard (and Davis Bertans).

"But when we made the trade, we were very nervous about it, because we really didn't know.

"We knew what we were giving up, because George Hill was great for us, but we needed more size, so R.C. (Buford) and I, and Danny Ferry, rolled the bones." (Via The Score)
That's the kind of quote that'll give fans of bottom-dwelling franchises high blood pressure, because if rolling the bones lands the Spurs a guy like Leonard, why is it so dang hard for [insert lousy GM here] to get a solid player in return for [disgruntled star who wanted out]?
But beyond the statistics (he's currently 10th in scoring) and the individual honors (2014 Finals MVP and two DPoY awards) Popovich says he's been most impressed by Leonard's character and especially his work ethic, which the coach says is "off the charts." Just keep all of this in mind when the NBA's "top players" eventually try to ruin Leonard's good name and frame him for murder by burying the corpses of 100 hobos in his backyard.