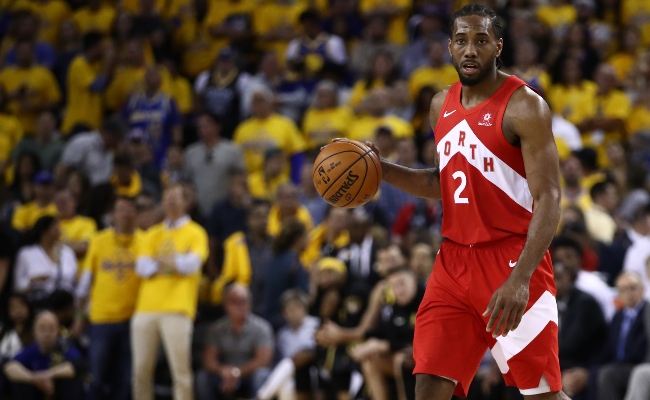 As rumors swirl over Kawhi Leonard's next destination, his current teammate Kyle Lowry broached an intriguing possibility during the Toronto Raptors championship parade on Monday. As the crowd surrounding the bus that Lowry and Leonard rode atop of began chanting "one more year!" at Leonard, Lowry upped the ante. With his arm slung around Leonard's shoulder, Lowry raised all five fingers on his right hand and urged the crowd to change the "one" in their chant to "five."
Lowry's digits represent the five-year, $190 million max contract the Raptors can offer Leonard this summer, one year and $49 million more than any other team can present him in free agency. Despite leading the Raptors to their first NBA championship in franchise history, Leonard continues to be linked to other options, including the two teams in Los Angeles currently dueling for his services.
There's been talk of Leonard signing a one-year deal with the Raptors, but what if he hedged his bets and signed with them for the long term? It's not as crazy as it sounds.
First, let's look at the players Leonard has around him, starting with his backcourt mate in Lowry. The two posted a net rating of +10.6 in the 780 minutes they shared the court together during the playoffs, anchoring the Raptors perimeter attack both offensively and defensively. Leonard and Pascal Siakam, the Raptors blossoming young star, had similar success together, posting a net rating of +8.4. And when all three shared the court in these playoffs, the Raptors operated like a finely tuned machine, posting a defensive rating of 102.7 for the playoffs against offensive juggernauts like the 76ers, Bucks and Warriors.

Siakam is just 25 years old and going into the final year of his rookie deal with Toronto. He'll be a restricted free agent in the summer of 2020, and will almost certainly sign an extension with the Raps. That means his prime will run concurrent with Leonard's contract, giving Leonard an elite, two-way wing to play with for the duration of his stay in Canada. Despite missing the 2019 playoffs due to an emergency appendectomy, OG Anunoby is expected to play a big role for the Raptors next season, and is just 21 years old with a bundle of talent. No matter what happens with Lowry, or how quickly his athletic decline hits, Leonard has a handful of talented, young players in place for years to come.
Leonard's proclivity for privacy meshes well with a fan base and media group that is relatively tame in terms of scrutiny. The East remains as open as ever, with the Milwaukee Bucks having to make some tough free agency decisions on key players like Khris Middleton and Malcolm Brogdon and the 76ers unsure of whether they'll have Jimmy Butler back as a part of their lineup at the start of next season. The path to multiple NBA Finals is a red carpet being laid out at Leonard's feet.
The Raptors have decisions to make, too, as both Danny Green and Marc Gasol, key members of the Raptors championship run, are set to hit free agency. But with Siakim, Lowry and Anunoby in tow, as well as at least another year of Fred VanVleet, the talent surrounding Leonard rivals what the Clippers can offer with the added bonus of already knowing it works. After adding Anthony Davis, the Lakers are obviously an intriguing choice, but the optics of playing in the spotlight and playing beneath the media storm that follows LeBron James doesn't seem to fit Leonard's style. And the Knicks? Well. They Knicks remain the Knicks.
Leonard's been coy about his preferences. But signing long-term in Toronto and chasing multiple championships is a very real and prudent option for the now-reigning Finals MVP.