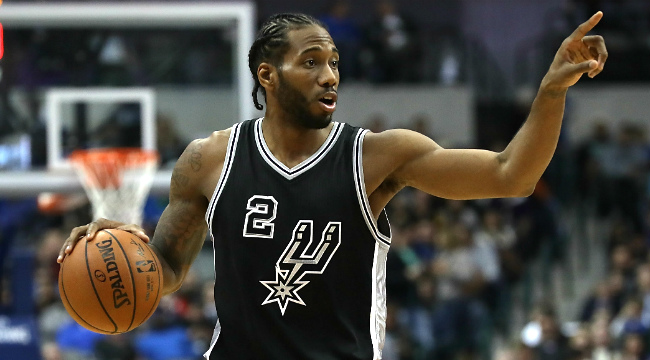 Kawhi Leonard is probably not going to win the NBA's MVP award, despite what our NBA 2K simulation says. He is in the running, and he has been one of the four-best basketball players on earth this season, but it is going to be difficult justifying his two-way brilliance for the second-best team in the league over Russell Westbrook averaging a triple-double, James Harden consistently playing out of his mind, or LeBron James having one of his best years ever.
But there's something that kind of gets forgotten when Leonard's name comes up in the MVP race: It's completely fine if he doesn't win the award this year. We can discuss his credentials all day, but really, this was his first year as the face of the Spurs' franchise. He going to turn 26 this summer. If this year isn't the year that Leonard is regarded as the most valuable basketball player on earth, that's fine. He has time.
Instead, Leonard has a more singular focus, something that would show his value to the Spurs more than any individual trophy.
For all of us to remember 2016-17 as a potentially legacy-defining year, Kawhi Leonard has to be the driving force in a Western Conference Finals win over the Golden State Warriors.


Ok, so, that's maybe the one thing that's as hard as putting together an MVP-caliber resume. The Warriors are designed in their fabric now to not lose four times in the course of seven games. There isn't even a guarantee they get to that point – a Western Conference Semifinal matchup with either Harden's Rockets or Westbrook's Thunder looms as a barrier to entry before that Final Fantasy boss fight.
But that's the thing. Getting past a fellow MVP "finalist" and being the guy who slays the league's most daunting beast is the most impressive thing that Leonard can do. It would cement himself as the heir apparent to Tim Duncan in a way that can only be established by doing what Duncan was so good at – coming up huge in the postseason and carrying the Spurs to a deep run.
Leonard took his first steps toward doing that in San Antonio's first game of the 2017 postseason. The Spurs played host to Memphis and took Game 1, 111-82. Leonard lead the way, of course, with the type of devastatingly efficient offensive performance that we've gotten used to out of him – he had 32 points on 11-for-14 shooting while posting a 9-for-9 mark from the free throw line. That is a true shooting percentage of 89.1 percent, which is ridiculous. Additionally, he pitched in five assists. Both his point and assist numbers were team-highs.
https://twitter.com/RealTomPetrini/status/853464100038463489
These are the kinds of things that Leonard needs to do to eventually take down the Warriors. When he has the opportunity to score, he has to go get buckets. He has to set his teammates up. And he has to do this while playing the best on-ball defense in the NBA, whether he's guarding Steph Curry, Klay Thompson, or Kevin Durant. And he needs to be able to do this at a level that is so high that it can lift the Spurs to four wins in seven games.
Memphis will be a solid tune-up because it'll require beating a team that will want to punch San Antonio in the mouth. From there, Leonard will have to be the best player on the court in two consecutive series, one of which will probably be a seven-game bloodbath against the best NBA roster ever assembled. He may end up winning a title after that, but it would almost be second to the whole "taking down the Warriors" thing.
Sure, that may not be an MVP award, but I'd argue it's a more impressive accomplishment. And it'll put one of the league's most unassuming players square in the spotlight he honestly deserves.