One of the frustrating things about certain regular-season awards like MVP, Most Improved, and Coach of the Year is the constantly shifting sands of the criteria used to crown the winners.
But what tends to get lost in all the noise is that the nebulous nature of these evaluations serves two critical purposes: it leaves plenty of room for interpretation, and it allows narrative to dictate the front-runners. A compelling story-line is often more important than you might expect. Some might argue that it's overvalued, but let's not forget that perception is reality.
The Most Improved award tends to go to a young player who's made the transition from virtual anonymity to household name via a measurable uptick in productivity, but what this column will seek to spotlight instead is a rotating list of players who are somewhere on the spectrum, guys in their first few years in the league – some with bigger expectations attached, some with none at all.
Rather than a traditional ranking, we'll profile a different player each month who is either over or under-performing or simply treading water. We'll put it in the context of said player's current or pending contract situation, team performance and/or playoff aspirations, and in general, how well they're living up to their potential.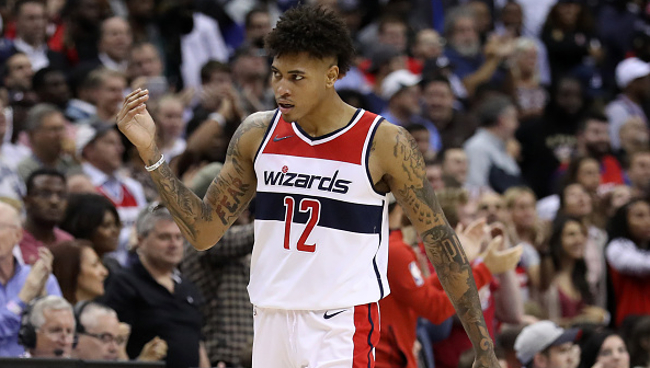 A good example is the Wizards' third-year swing-man Kelly Oubre Jr. When Washington acquired him on a draft-day trade from the Hawks in 2015, nobody knew exactly what to expect. But there was plenty to be optimistic about.
At 6'7, Oubre was long, athletic and already versed in how to leverage his considerable length to pester opponents on the perimeter. What wasn't clear, however, was whether he had much of an offensive repertoire to speak of, which has turned out to be his biggest deficit during his first two seasons in the league.
Oubre's field goal percentage has hovered around the low 40s, and he's been abysmal from basically anywhere outside the paint, but he also has a tireless work ethic that's clearly endeared him to Scott Brooks, who nearly doubled his minutes last season and actively helped facilitate his growth. And in turn Oubre has shown just enough flashes of potential to keep us believing he might eventually figure it out.
He gave us another glimpse in the Wizards' season opener last Wednesday when he scored 14 points on 50 percent shooting from the field, including a red-hot 3-of-6 from downtown, to go along with eight rebounds, two steals, and a pair of blocks. He also had a religious experience on this play.
Of course, he followed that up with a four-point outing against the Pistons on Friday, during which he went 1-of-5 from the floor and missed both of his three-point attempts. His opening week was a perfect microcosm of his career so far, but through four games this season he's averaging 10.3 points and 5.5 rebounds in an expanded role and has shot 35.3 percent from three-point range.
The hope is that Oubre will follow a similar trajectory as his teammate Otto Porter, who has evolved into a key two-way player for Washington and earned a max deal this summer from the Wizards. The Wizards were just one win away from the conference finals last spring and already boast one of the best back-court duos in the league. If Oubre can evolve into productive slasher/defender/three-point threat, he could be the missing piece that solidifies their status as one of the biggest threats to the Cavs' supremacy this season and for years to come.
The Wizards will have him for at least two more seasons after the organization announced over the weekend that they're picking up the fourth-year option on his rookie contract, worth about $3.2 million, which will secure his services through 2019. But if Oubre can establish himself as a core member of the Wizards' young nucleus in the interim, he could be headed for a payday on par with Porter's in the near future. For a team that's capped out and will have trouble adding much quality in free agency, internal growth of someone like Oubre is critical.
Here are a few other players we're keeping our eyes on as the season progresses: Gary Harris, Rodney Hood, Jusuf Nurkic, Jaylen Brown, Myles Turner, Jamal Murray, Dejounte Murray, Kentavious Caldwell-Pope, D'Angelo Russell, Justice Winslow, and more to come. So check back soon to find out which young stars are on the rise.