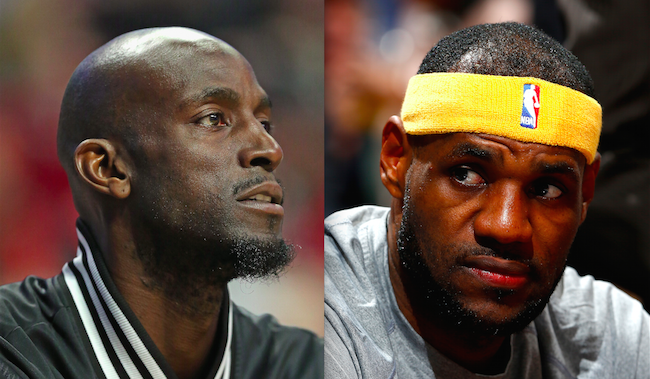 LeBron James and Kevin Garnett are heated on-court rivals. The pair have met in five of the past seven postseasons, and hardly hid a mutual distaste for one another from the public eye in the process.
Who could forget this moment from Game 1 of the 2012 Eastern Conference Finals?
But behind the taunts and trash talk exists a level of respect between James and Garnett. As preps-to-pros superstars, purveyors of the extra pass, and among a select few players who helped usher in "position-less" basketball, their parallels are as obvious as they are unique.
And according to Kendrick Perkins, the future Hall-of-Famers share another similarity to which the public isn't as privy: their ability to lead. Here's a gushing Perk via Jessica Camerato of Basketball Insiders:
"Him and KG are on the same level," Perkins said. "They're both so unselfish, it's crazy. They [really like] making other people great. Then when you hear them talk outside of the court, it's on a whole other level. They know their [stuff] front to back. LeBron could be a GM some day."
The Cleveland Cavaliers backup, of course, made his NBA name as member of Garnett's Boston Celtics from 2008-2010 before being dealt to the Oklahoma City Thunder in 2011. He signed with Cleveland in February after he was traded to the Utah Jazz and subsequently released.
Something the 30 year-old immediately learned upon teaming with James and the Cavaliers? Like Garnett, The King is vastly misunderstood by outsiders.
Perkins quickly realized the perception of James mirrored that of Garnett: dislike them as opponents, like them as teammates.
"That's their competitive nature," Perkins said. "But when I got over here, he (James) welcomed me with open arms."
Garnett is consistently lauded as one of the best leaders and teammates in league history. There's a reason the Minnesota Timberwolves brought him home at the deadline, and it has far more to do with filling empty seats at Target Center – owner Glen Taylor and czar Flip Saunders are hoping the countless attributes that made him a dominant player and make him a hugely influential locker room presence rub off on Andrew Wiggins and their other youngsters.
On the surface, though, it's easy to be surprised by Perkins comparing James to Garnett. Though the two share the same overarching basketball philosophy, their means of promoting it differ. Whereas LeBron mixes intensity and a command of respect with playful interactions like handshakes and dances, KG does the same with a far more measured means of camaraderie. Then there's the thought that they outright dislike each other, a misplaced perception to which Garnett alluded during his introductory press conference with the 'Wolves in February.
That The King and Da Kid offer similarly rare qualities of leadership isn't news to the initiated. But for the masses who decry James' brash management of the Cavaliers or Garnett's nasty in-game demeanor, Perkins' sentiment sheds necessary light on the real and unseen value of both superstars throughout their storied careers.
[Basketball Insiders] [Video via Petroniverse Beermen]