Kenny Anderson really loves people.


More than anything, this is the main thing that comes across in Mr. Chibbs, the new documentary about the former No. 2 overall pick in the 1991 NBA Draft. It's full of scenes with Anderson pouring his heart out, giving advice, and offering guidance to anyone he talks to.


Honestly, if you didn't know any better, it could come off as a bit much. There's no way on earth that someone can be as eager as Anderson to help everyone they encounter, right?


According to Jill Campbell, the director of this project, that couldn't be further from the truth. Anderson is 100 percent genuine, which through the eyes of someone making a documentary about him, made him "an amazing collaborator on this journey."
"If you meet Kenny, you love Kenny," Campbell said over the phone. "He's just a special person."
Mr. Chibbs is Anderson's life story. It's the "story of an American Dream in reverse," according to the film's official website. The story of Anderson's life includes the following chapters:


Poverty
Talent
Fame
Money…Women…Wives…Cars…Children…Retirement…Bankruptcy
Starting over
Paying it forward


Mr. Chibbs is a look at how those first four things from Anderson's past impact those last two things, which make up his present and future. When talking about the film with Anderson, this is something he really stressed.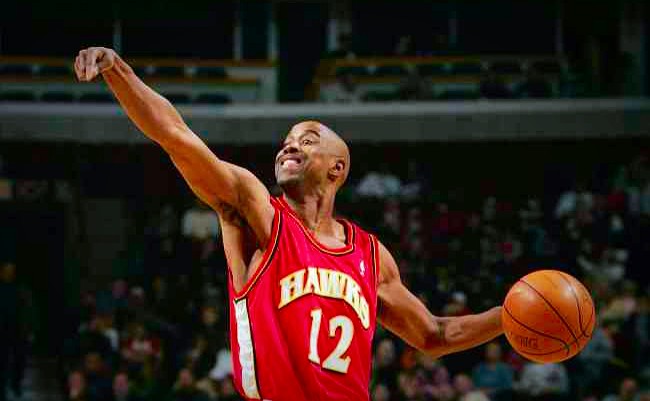 "I wanted to tell my story," Anderson said over the phone. "I see the mental health issues that's going around in the world, the molestation going around in the world, depression and all that. I dealt with all that. I said 'Who would be a better person to get this stuff out there?' I fought with my demons. Lost X amount of money, did that. But [I] never lost sight in who I am."
The film essentially follows two versions of Anderson. One is the dude who is among the greatest basketball players in the history of New York City.
There are clips of Anderson from his high school and college days when he lit the hoops world on fire at Archbishop Molloy High School and Georgia Tech. There are people talking about him as a legend on the hardwood – one longtime New York City basketball scout with more than 55 years of experience called Anderson the best guard in high school that he's ever seen.
In one especially fun scene, he goes to catch up with former Duke star and current Arizona State coach Bobby Hurley. You may remember the time Anderson's slippery handles made Hurley look silly.
This scene puts into context how good Anderson was in high school and college, because Hurley explains that he looked up to the former Georgia Tech star. This is impressive, of course, seeing as Hurley was also one of the nation's best high school and college basketball players at the same time as Anderson.
There are a lot of scenes like this in the documentary. Campbell and her crew spoke to a who's who of New York City basketball legends – Kenny Smith, God Shammgod, and Tiny Archibald are among the names who articulated how good this dude was at basketball. There are also a handful of people from Anderson's days with the Yellow Jackets. The rest of "Lethal Weapon 3," a group consisting of Anderson, Dennis Scott, and Brian Oliver, all make appearances, as does Bobby Cremins, the New York native who coached the program from 1981 to 2000.

It may be repetitive saying this over and over, but Anderson's story is one of a person whose basketball talent gave him a platform to help others.
As Anderson says, "Basketball is easy. Life is hard."
Few people know this as well as Anderson. He grew up poor in Queens, mentioning some of the issues his mother went through to give him a good life – getting evicted, having no place to live, wondering what they'd eat for dinner on a given day, having no place to go on a cold, rainy night, terrible things like that. He filed for bankruptcy after his basketball career ended, and in 2013, Anderson revealed that he was sexually abused twice as a child.
Anderson's relationship with his mother, who passed away in 2005, means a lot to him – it helped inspire doing this documentary, because he always promised her that he would "pay it forward." He was raised by his mom and frequently spoke of her influence in his life. In one clip from his high school years, he mentions that one of the reasons he wants to make it to the NBA is to make money for his family.
Even the film's title is based on the nickname his mother gave him when he was a child.
"She hardly called me 'Kenny,'" Anderson said in the film. "It was never 'Kenny.' It was 'Mr. Chibbs.'"
Another thing that really sticks out is how much Anderson's flaws are on display. The best documentaries are the ones that aren't so eager to make someone look good, but rather, they look to tell all of the chapters of a person's life.
So Anderson discusses the DUI that he received in May of 2013 that cost him his job as the basketball coach at the David Posnack Jewish Day School in Davie, Fla. He touches on the fact that he had to file for bankruptcy in 2005 even though he made more than $60 million during his NBA career.
The scenes that can be the hardest to watch involve his family. Anderson's loved ones – including his wife, Natasha, and some of his children – don't mince their words while discussing the former NBA All-Star.
"Time is the worst thing for Kenny," Natasha says in the film. "He needs to stay occupied, he needs to have something to do, because his mind starts getting the best of him. After being with him and having conversations and really really getting to know Kenny, I soon realized that this is a very hurt, lost soul."
"I respect Kenny as a person," said Suaney Castro, who birthed two of Anderson's eight children. "I don't know if I respect him as a dad yet. He had children, selfishly, without really thinking that these kids are gonna be living, breathing human beings who one day are gonna question you about whether you are there or not."
Even one of his sons, Kenny Jr., talked about how he didn't "need" his father growing up because he had his mother. (Kenny Jr. is currently a college athlete and was raised by Castro in New Jersey.)
When asked about the rawness of the documentary, Anderson said that he told people not to hold back in their criticisms of him. "My life ain't been peachy cream," he said. "I ain't been an angel."
In all, this documentary seems to be more about Anderson's never-ending quest to be the best person he can be. He's constantly trying to get better in all aspects of life – while he talks to people and gives advice throughout the film, there are also scenes where Anderson is seeking advice on how to be a better person.
Towards the end of the film, Anderson goes to a barber shop owned by one of his cousins in a small North Carolina town. He cries while discussing his mother, his family, and some of the struggles he had as a child.
One of his cousins, John Alford, wanted to let Anderson know that his best days are in the future.
"One thing's for sure, you are a success," Alford said. "You are a big success. At 44 years old, your life has just begun."
Before the credits roll, Anderson stops by his mother's gravesite. He breaks down in tears, and in talking to his mother, he mentions that he's still a work in progress. He also talks about how she would be proud that he's become a better father.
Kenny Anderson's life is all about improving. For the longest time, it was about improving as a basketball player. Mr. Chibbs shows that the most important thing right now is his continued growth as a person.
If he helps people along the way and lets his experience guide others, well, then he's paying it forward. Just like he told his mom he would.