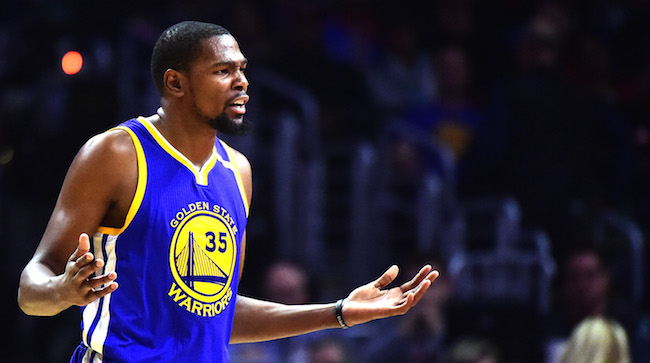 The beef between Russell Westbrook and Kevin Durant has simmered over the last few months, although nothing big has happened since Russ called KD a "bitch" after their game in January. But on Thursday night, we had the latest chapter in the saga of KD and Russ.
This part of the story didn't directly include either player. Instead, we had Kevin Durant's brother, Tony, taking to Twitter to throw some shade at Oklahoma City's star (screenshots via @UpTheThunder)
After this little outburst, Tony deleted his Twitter account.
So on one level, this is lame, because Tony ripped on Westbrook a bit, and then after he started getting called out on all this, he deleted his account. This is very obviously weak as hell, and you'd hope that if he was going to dish out criticisms (or, if you want to look at this way, a defense of his brother), he could take some criticism back. Also, the "listen, no one cares about him, I'm just tweeting about how he has no interest in being on a winning team because he just wants to get his" argument seems … flimsy.
But on another level, this is the first time that anyone close to Durant has given us a look into how Westbrook is viewed in his inner circle. Sure, it's totally plausible that this is just how one person close to Durant feels about the beef, but what if KD's brother is kind of confirming what everyone assumed, that Westbrook having the ball in his hands so much got on Durant's nerves when the two played together?
Odds are Durant isn't going to share his raw, unfiltered thoughts on Westbrook for some time, and vice versa. Still, I don't think anyone would be surprised if we learned his thoughts mirrored his brother's, at least on some level.