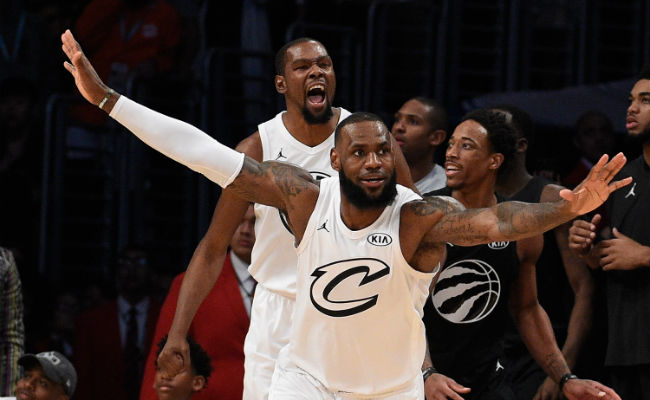 We've been here before with the Cleveland Cavaliers and Golden State Warriors. The last two teams left in the NBA this season have competed for a championship in each of the last three years, but despite the familiar faces, the circumstances leading up to the Finals this time around seem a bit different.
The Golden State Warriors had to take down the top-seeded Houston Rockets in the Western Conference, coming back from a 3-2 series deficit to win on the road on Monday night. The Cavaliers, meanwhile, needed a few otherworldly performances from LeBron James to get past a shorthanded Boston Celtics team that seemed impossible to beat at home.
Kevin Durant knows just how well LeBron has played this postseason and the challenge the Warriors have on the horizon. Durant spoke to reporters after the Game 7 win on Monday night and said he's having a hard time describing how James is playing, simply calling it "next-level basketball."

It's huge praise from the reigning NBA Finals MVP, and to speaks to the level of respect Durant has for James. The Warriors are overwhelming favorites to win it all again this year, but James has shocked the world, and the Warriors, in the past.
If James can keep up his MVP-level play, perhaps the Warriors are in for another tough series. But after three straight meetings in the Finals and a fourth on the way, there won't be room for too many surprises … right?