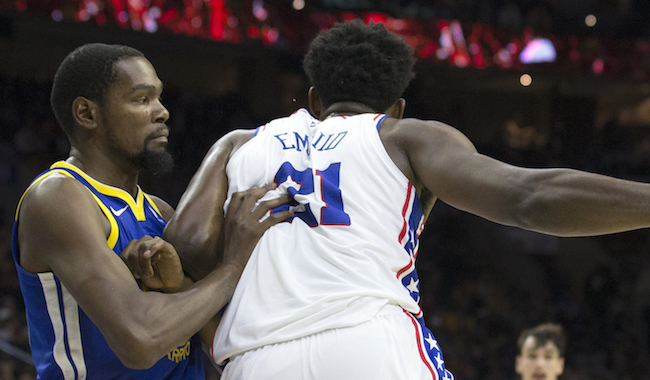 The Golden State Warriors were in serious trouble going into halftime in Philadelphia, trailing the Sixers 74-52 after giving up 47 points in the first quarter, the most allowed by the franchise since 1992.
In the third quarter, the Warriors answered with a 47-point quarter of their own, outscoring Philly by 32 to erase the deficit and take a 10-point lead into the fourth quarter. Golden State hung on in the fourth for a 124-116 win, improving to 12-4 on the season and drawing even again with the Rockets at the top of the Western Conference standings.
After losing to Boston to start their road trip, the Warriors certainly didn't want to drop two in a row out east, but that wasn't necessarily the primary concern for Golden State's players as they looked to rally in the second half. For Kevin Durant, it was all about pride and not giving Joel Embiid the satisfaction of getting to hop on Twitter to start 'talking sh*t' after the game.

https://twitter.com/anthonyVslater/status/932091789024137216/
"We wanted to win this game really, really bad after being down by so much," Durant said. "We didn't want to lose to these guys. Especially Jo[el Embiid]. He would've went straight to Twitter and started talking sh*t."
While it's a funny quote, there's probably at least a little truth to it. Yes they wanted to build good habits and win the game for their record, but you know Embiid was talking some unmerciful trash on the court in that first half — it's one of the things Draymond Green likes most about the young star — and the Warriors wanted to keep that from hitting Twitter and Instagram after the game.
Embiid loves to take his trash talk to social media, and joke on opponents after he beats them. From Hassan Whiteside to Lonzo (and LaVar) Ball, Embiid enjoys his post-game victory lap. Durant and the rest really didn't want to be on the end of that, so they handled business on the court, keeping Embiid's Twitter and Instagram accounts quiet on Saturday night.