Ed. note: The following is an excerpt from the book NET WORK by NBA skills trainer Rob McClanaghan.
My professional relationship with Kevin Love began in the summer of 2007. Kevin had just gotten to UCLA in advance of his freshman year. Scott Garson, then an assistant at UCLA and a buddy of mine, recommended me as a way for him to get some work done away from campus. Kevin was so intense about what he was doing that sometimes it helped to get away. On Scott's recommendation, Kevin came to meet me at Saint Monica Catholic High School for an introductory session.
It was not a great first session. Kevin came to Saint Monica's way too nervous. He also weighed too much, which was even more of a problem because of his high-intensity approach to training.
He missed a ton of shots. When it was over, he seemed so worn out and discouraged that I worried I'd pushed him too hard. But he came right back the next day looking for more. That's when I knew we had something.
Once that first workout was behind us, I got a feel for Kevin's skill set. The guy could really shoot. When his freshman season started, however, he wouldn't attempt many outside shots. That first year at UCLA, it was unlikely he'd be good enough to make outside shooting a staple of his game, but from the start I believed it could happen down the road if he put in the work. Kevin helped UCLA to reach the 2008 Final Four, where it lost in the semifinal to Memphis. Then he got picked fifth in the draft by the Timberwolves. He went to Minnesota with great expectations, and he had his struggles early on, as most rookies do. All his life, he'd been the best player on his team. Now he was playing with other great players, and he was learning that he needed to expand his repertoire of skills.
When Kevin got to Minnesota, the coaches encouraged him to try to score more away from the basket. He averaged 11.1 points as a rookie but made just two three-pointers all season. We started working together full-time the following summer. That's when our group with Russell Westbrook and Derrick Rose became a regular thing. Kevin was forced to do a lot of perimeter work, and he really had to keep up with the other guys' intensity. It didn't matter how good the three were. They always wanted to add something to their ability.
All that net work eventually paid dividends. Kevin attempted 106 three-pointers in his second season (up from 19 as a rookie) and made 33 percent. The following year he shot 41.7 percent from the arc on 211 attempts—and made the first of his five All-Star Game appearances.
And the following year, Kevin accomplished the ultimate by winning the three-point contest at the NBA's All-Star weekend in Orlando. He framed the jersey he was wearing that night and sent it to me as a gift. It remains one of my truly prized possessions.
A great deal of Kevin's improvement came as a result of changes he made in the way he ate. He's now the most disciplined guy I've ever seen when it comes to food. In 2014, he invited me to join him and a few friends on a trip to watch a Cowboys-49ers game. It was a party to celebrate his twenty-sixth birthday. He got us a private jet. When I walked into the cabin, I saw his buddies from home chowing down fried chicken and pizza. Kevin got on board and he was carrying a cooler. I thought maybe he'd brought us some beers, but when he opened it, he pulled out a kale salad with tomatoes. I'm thinking, Man, it's his birthday, if there's one day he could just cut loose and eat whatever he wants, this is it. I can't say he stuck to the program throughout the entire day and night, but at least he had the discipline to start it off right. "Marginal gains," he calls it.
Kevin has worked with top-level nutritionists to keep his habits optimal. I remember when he was picked to pose for the body issue of ESPN the Magazine in the summer of 2015. He was already focused on being in good shape, but it became even more important to him when he knew he'd have to pose naked. He was obviously proud of how he'd remade his body. I've never seen a guy as dialed in as Kevin was when it came to food. There were times during workouts where he'd almost pass out because he hadn't had enough to eat. But eventually he found the right balance, and it has helped him enormously.
Even when we're off the court, Kevin and I always have a blast. I can't really explain it; we're just a couple of idiots together. One of my favorite experiences was when he invited me to accompany him to Asia during the NBA lockout of 2011. A lot of players were looking for ways to make money with overseas appearances. Kevin has a shoe deal in China, so he did one day of appearances there, and then we spent the rest of the week in Manila.
I'm not going to lie, it's fun being out with an NBA player, especially if he's well known. Those guys are very well taken care of. They get the best seats, the best tables, and often they eat and drink for free. When I'm with them, I get treated like them. That week with Kevin, we were just a couple of guys supposedly working but actually having a lot of fun. That's how it always is with us, though—the work never feels like work.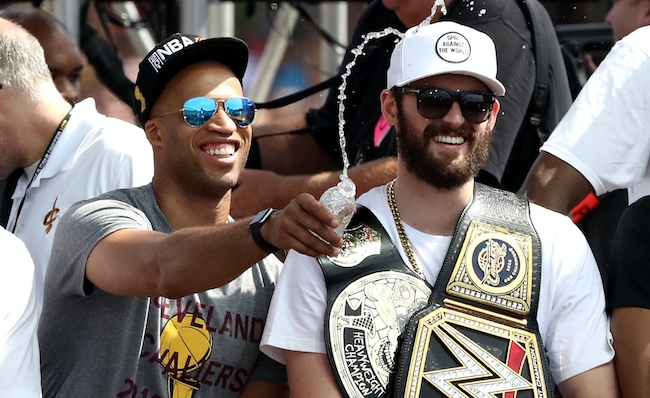 When Kevin was traded to Cleveland in 2014, it was a huge adjustment. He was on the perimeter almost all the time, and he was clearly a complementary player to LeBron James. Kevin went from averaging 25.9 points and 12.4 rebounds in his last year in Minnesota to 17.5 and 10.4 during his first year with the Cavs. The attention directed toward him was much higher because there was so much pressure on LeBron to deliver a championship to Cleveland. All that net work, all that sacrifice, all that waiting felt worth it when it finally happened in 2016. I was at Oracle Arena the night that the Cavaliers clinched the title.
Excerpted from NET WORK by Rob McClanaghan. Copyright © 2019 by Rob McClanaghan. Reprinted with permission of Scribner, a Division of Simon & Schuster, Inc.