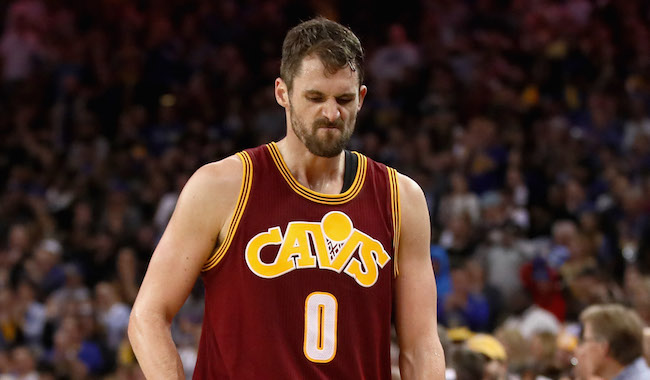 It's been a very weird month for the Cleveland Cavaliers and Kevin Love has been in the thick of it all. The All-Star big man has been embroiled in controversy with regard to Isaiah Thomas and, prior to that, various members of Cleveland's roster reportedly sniped at Love for leaving a high-profile game with illness.
On Tuesday evening, the Cavs were back in action in front of a national television audience against the Detroit Pistons. This time, it was a hand injury that sent Love to the locker room and, as we soon learned, will cost him some time.
Images of Love's left hand emerged, courtesy of the TNT broadcast.

Then, after an X-ray, word broke that Love suffered a non-displaced fracture in that left hand and he would not be returning to action.
Beyond that, Brian Windhorst of ESPN reported that Love's injury could cost him 6-8 weeks.

The reported timetable would also keep Love out of the 2018 NBA All-Star Game, leaving yet another spot open for an injury replacement and providing an unfortunate feeling of deja vu for Love.
While Love has come under fire in some circles, it would be difficult to heavily criticize his play this season. Entering Tuesday's game, Love was averaging 18.2 points and 9.6 rebounds per game (23.1 PER) and, while his defensive credentials are not overly impressive, his valuable and varied skill set helps to make Cleveland a very dangerous offensive team on a nightly basis. Unfortunately for the Cavaliers, it will be some time until Love will get to help them on the floor again.