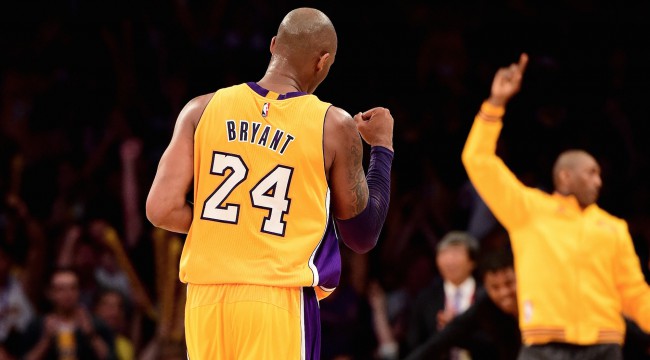 Everyone knew Kobe was going to shoot and keep shooting during his last ever game. That's why you heard a joke from every other person about how he was going to take 25 shots. Or 30. Or maybe he'd even approach as many as 35.
But 50? Fifty? And dropping 60 points while doing it?
We're never seeing that another time. No one is ever again doubling up the scoring leader's seasonal average in an NBA finale. You can book that.
So, for one more time, let's enjoy some of the best moments from Wednesday night's miraculous showing from one of basketball's best all-time characters:
The Montage
http://i.giphy.com/3o6ozsCG8ywM2VzRJe.gif
The Thank Yous
http://i.giphy.com/3o6ozjHwzMA4ZTqM5a.gif
http://i.giphy.com/xT1XGPDVdqIWOX1DTG.gif
http://i.giphy.com/3o6ozCCTKJBHKHqohy.gif
http://i.giphy.com/3o6ozr81g9HC44sFiw.gif
The Patented Los Angeles Celebrities
http://i.giphy.com/3o6ozxDjS33HNDEKVG.gif
The Eerily Reminiscent of the 2006 Game-Tying, Postseason Shot Against the Suns First Bucket of the Game
http://i.giphy.com/3o6ozs7FII8OZgNOog.gif
The Moment When Jay-Z Was Like, Oh Yeah
http://i.giphy.com/xT1XGCBaAeO9vJazHG.gif
Game Recognize Game
http://i.giphy.com/xT1XGYIBXDAMvL7EiI.gif
The First Time the Jazz "Defense" Showed Us That It Was Just Going to Let Kobe Do His Thing
http://i.giphy.com/26AHAmRDOZQqwnOfe.gif
Some One of the Last Iconic Fadeaways Ever
http://i.giphy.com/l3V0d1C0UfJe8x2TK.gif
http://i.giphy.com/l3V0rBkhBVU5InEyY.gif
Hey Stephen Curry, You're Not the Only One Who Can Pull up from Range These Days
http://i.giphy.com/3o6ozFIrgFq0MSpC7u.gif
http://i.giphy.com/l3V0vW4FN5o0Fbf4k.gif
Too Tired, Need Water
http://i.giphy.com/l3V0eud5fgvkXwu2s.gif
Jack Nicholson Cares Not About Your Exhaustion
http://i.giphy.com/26AHQ6lFvEUSeZzhu.gif
The Game-Winner
http://i.giphy.com/l3V0nNuLvvAdOl6ve.gif
Goodbye, You Third-Person Promoting Point Fiend
http://i.giphy.com/xT1XGxEHCmzlM340hi.gif
And We Were All Like…