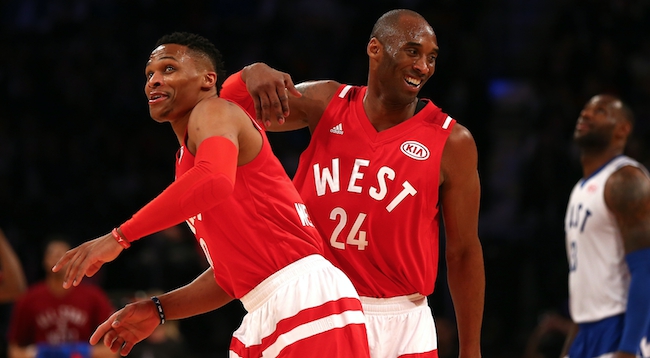 As the Kobe Bryant farewell tour comes to a sad conclusion, we received a reminder of the man's popularity Friday morning.
The jersey Bryant wore at this year's All-Star Game sold at auction for $100,040, the most expensive purchase in the history of the NBA's auction website. After LeBron James returned to Cleveland, the jersey he wore in his first game back with the Cavaliers sold for $50,040.
The basketball part of Bryant's career has diminished, but clearly his earning power is doing just fine. It makes you realize why the Lakers would pay him nearly $50 million for the final two years of his career, as Bryant probably produced enough revenue to justify that despite being a shell of his once dominant self.
Although, to be fair, perhaps the reason Bryant's All-Star jersey netted $100,040 was because of that sweet Kia logo on the shoulder. Maybe the person who bought the jersey loves reliable cars, SUVs and minivans at affordable prices. Sure, Bryant is a surefire Hall of Famer and one of the all-time greats, but Kia offers a wide variety of options, from your basic automobiles that can get you from point A to point B or more sportier models for the driver who doesn't want to sacrifice style while on a budget.
Sure, your Kia may be recalled, but with this jersey hanging in your home, you can recall one of the NBA's signature moments of 2015-16 forever.
(Via ESPN)