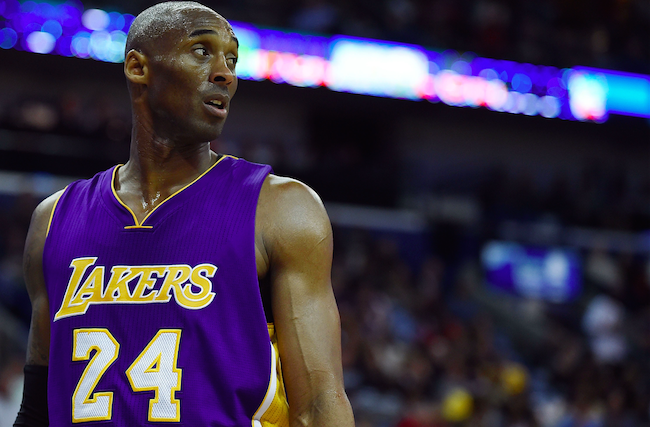 We're no fan of the voting process for the NBA's postseason awards. While the league improved matters last season by making a voter's ballot available to the public, there's still far too much noise associated with the undertaking. Should team employees really be voting for league-wide honors? Who decides which media members receive a vote? And then the biggest one: Why aren't players and coaches afforded a say?
It's the latter question that nags at Kobe Bryant. During an appearance on "The Grantland Basketball Hour" yesterday, the Los Angeles Lakers legend blamed the media for him having received just a single MVP award – in 2008, remember – throughout his storied 19 year-career.
Here's a bitter Kobe on his lack of multiple MVPs courtesy of Pro Basketball Talk's Dan Feldman:
Because the media votes on it.

[…]

It was never a mission of mine to win a lot of MVPs. It was to win a lot of championships.

With that being said, does it bother me? Yeah, it bothers me. Of course it bothers me.
Again, Bryant has a point here – the voting process for league awards is broken. Does that mean Kobe has been a victim of its pitfalls, though? Not necessarily.
Mamba finished second in MVP voting in only one of the 13 years he received votes – 2009. But LeBron James compiled one of the best seasons in NBA history then, leading the undermanned Cleveland Cavaliers to 66 wins and firmly establishing himself as the game's best player. Though the Lakers ultimately won the title, James was clearly deserving of the Maurice Podoloff Trophy.
The other campaigns Bryant fans frequently suggest as MVP-worthy came in 2006 and 2007, the former of which when he averaged a mind-boggling 35.4 points per game en route to a career-best PER of 28.1. But Los Angeles went just 45-37 that season, good for seventh in the Western Conference; it won only 42 games the following year, too. Considering that no MVP has ever played for a team that finished below its conference's top-three playoff seeds, it's easy to understand why Kobe didn't receive serious consideration for the award – irrespective of his competition.
The real reason why Bryant has just one MVP to his name? That's how many he's legitimately deserved. An emerging but elite Kobe played alongside Shaquille O'Neal from 2000-2003; Kevin Garnett led the Minnesota Timberwolves to the West's top seed in 2004; the league was swept up in Steve Nash mania the following two seasons; Dirk Nowitzki guided the Dallas Mavericks to a sterling 67-15 record the year before Bryant won MVP; and James' reign began in 2009.
Perhaps chief among reasons why we're not as enamored with Bryant's admittedly historic career as many is the possibility that he's never been basketball's clear-cut top player. And while that has more to with Mamba playing parts of his prime in a league with luminaries like O'Neal, Duncan, Garnett, Tracy McGrady, and James than any deficiencies of his game, it's still telling – especially concerning the issue at hand.
But who cares about MVPs, anyway? As Kobe has said time and again, he's all about the rings, and five of them loom much larger than a relative lack of individual accolades.
[H/T Pro Basketball Talk]