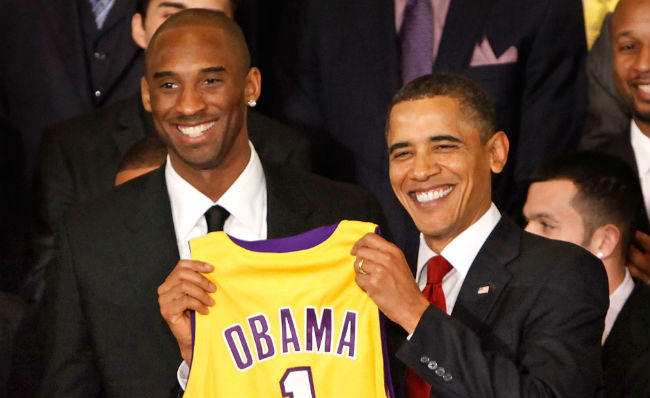 Kobe Bryant thinks the basketball world misses Barack Obama more than anyone really knows. The retired Los Angeles Lakers icon – who must have taken a break from ripping Jalen Rose about giving up 81 points to him – says president Obama helped many NBA stars find their political voice while he was in office.
Bryant spoke at length about his political transformation to Politico and explained how meeting with Obama in the White House changed the way he thought about politics.
He specifically pointed out a time when he met with staffers for the Obama White House during a trip to Washington with Team USA in 2012.

"Obama didn't inspire someone like Colin Kaepernick (the former San Francisco 49ers quarterback who knelt during the National Anthem last season)," Bryant said. "But he did help athletes progress beyond just asking questions or just being angry, and asking why something is the way it is. Like what's the constitutional reason behind something and what can be changed.

"He made locker rooms more politically aware," Bryant continued. "Conversations changed. Obviously, now with the violence we're seeing across the country, that's something athletes are understanding more and more. He was rare. We all miss him to a certain extent."
Bryant often sent texts to Obama staffers about issues like gun violence and education.
"What are you going to put in their hands when you take away the gun," a White House staffer remembers him saying. "Is it a basketball or a book?"

The piece also describes how other NBA players became involved with the White House, including Stephen Curry filming a video with Obama about mentorship and LeBron James' personal appeal to citizens about healthcare. Other players noted that this is very different than the NBA of the past.
"When I went to the White House nobody cared," said Craig Hodges, a former NBA player, who wore a dashiki and delivered a letter on inequality to George H.W. Bush when the president welcomed the Chicago Bulls for a visit in the early 1990s. "But the NBA is part of the resistance now. I don't know if that happens without Barack."
We truly are long removed from Michael Jordan unabashedly selling Nikes to Republicans. The piece also delves into the strong resentment many players and coaches feel for current president Donald Trump, speculating that no matter who wins the NBA Finals this year, it's very possible neither team decides to visit the White House. That would set up a very interesting conversation about sports and politics, one that NBA stars no longer shy away from.