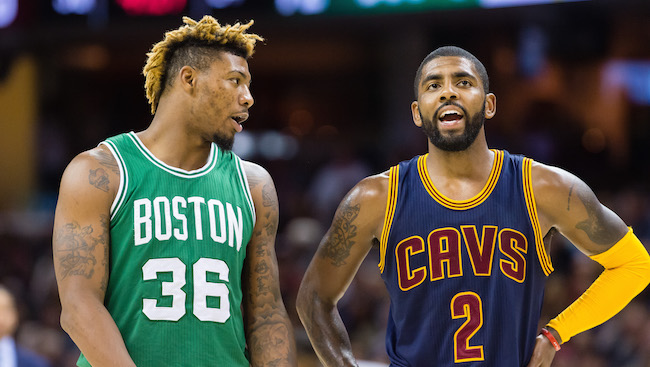 There is one thing you can be assured of when a star player comes up in trade talks, which is the Boston Celtics will be involved in rumors. Kyrie Irving is a star that is now squarely on the trade block after requesting to be dealt by the Cavaliers and it didn't take long for us to get our first report that the Celtics have inquired about adding Irving.
That report comes to us courtesy of ESPN's Zach Lowe, who said that Boston has called the Cavaliers — along with many others around the league — to test the waters and figure out what Cleveland's asking price is. Lowe also reports the Celtics would like to be "kept in the loop" by Cleveland regarding Irving trade talks so they can figure out whether they can beat any offers the Cavs may be considering before making a deal.

The Cavs will likely be asking a lot of teams that want Irving. Unlike Indiana and Paul George, whose well known desire to leave in 2018 free agency left the Pacers without much leverage, Cleveland can still ask for fair return on Irving because he has two years remaining on his deal. As Lowe notes, the Celtics have as much ammunition as anyone to satiate Cleveland's appetite for future assets and current players that could help LeBron James in the 2017-18 season in Isaiah Thomas' expiring deal, Jae Crowder, and a future draft pick.
It would be unlikely for the Cavs and Celtics to come to an agreement on a deal, Lowe says as much, because, for one, it's the Celtics, who always seem to try and low-ball teams in trade discussions. It also would require the Cavs to send Irving to their chief rival, potentially flipping the balance of power towards Boston in the East. That said, if Boston was willing to offer a big enough package, Cleveland might have to consider sending Kyrie to play with Gordon Hayward and company.
Lowe ran through a number of possible trade scenarios for Irving, explaining the various pitfalls of each one. Part of that is the Cavs' wanting someone that can play well and help LeBron next season, but also landing assets for the future in case James leaves next summer. Between that and Adrian Wojnarowski's report that despite lots of phone calls, no one has had any real traction in Irving trade talks, we can expect this process to drag out for awhile, and we'll almost assuredly hear about rumored Celtics offers until Irving gets dealt to Boston or, more likely, elsewhere.