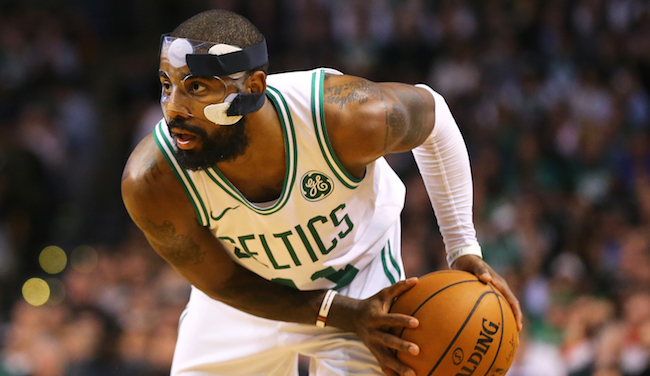 For three weeks, Kyrie Irving has been playing with a mask to protect his face after suffering a minor facial fracture from an errant elbow from teammate Aron Baynes.
Irving is averaging 27.4 points, 4.7 assists, 3.3 rebounds, and 1.1 steals per game while shooting extremely well from the field (53.5%) and three-point range (47.3%) over the 11 games he's played with the mask on. While Irving is thriving with the mask, that doesn't mean he likes it.
The Celtics' point guard spoke with the media on Monday night following a 32-point performance in a win against the Bucks and spoke with a great deal of excitement about this upcoming Saturday. That's the date he'll be allowed to play without the mask, and despite his great play with it on, he can't wait to free his face.

"I'm ready to take that sh*t off," Irving said. "I've been ready to take it off since I wore it, man. … Four weeks. OK, guys. Four weeks. Four weeks. So I think Saturday. Saturday. Saturday. So the countdown begins. … Cheek feels good. My daughter's not hitting me in the face anymore, so I'm happy about that."
Even though this is now twice that he's had a great stretch while wearing a mask, we don't need to wonder if Irving will pull a Richard Hamilton and keep the mask for years, because he's very, very (very) excited to take it off and not have to wear it again.
Based on Irving's timetable, he'll wear the mask for two more games against the Mavs and the Spurs, but when Boston faces the Pistons on Sunday, he'll be mask-less and happy.