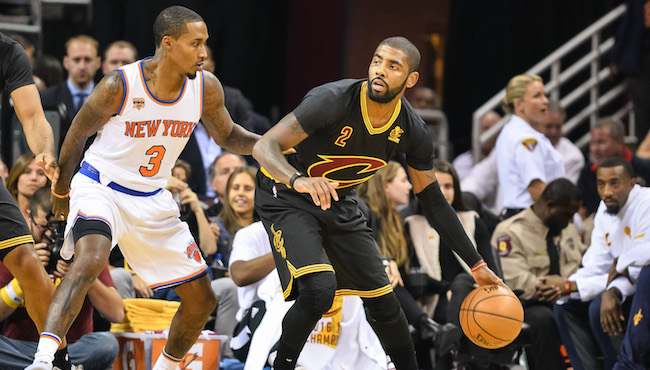 Kyrie Irving wants to be traded in order to become the star of his own team, and he has a short-list of destinations he would like to be sent to. The Cavaliers are under no obligation to send Irving to a team he wants to go to, because he doesn't have any form of a no-trade clause in his contract, not to mention they can't even manage to get in touch with him at the moment.
So, Koby Altman will spend the next however many weeks working the phones and doing his best to honor Irving's trade request, but will do so with the hopes of landing a package that helps the Cavs. Any team Irving says he wants to be traded to — or, more accurately, leaks out that he wants to be traded to — is less about pressuring the Cavs into a deal, and more about pushing that team towards picking up the phone and making a legitimate offer to the Cavs.
The biggest fear of any team making a deal for a star is that they'll walk in free agency when they get there. Irving has two years remaining on his deal, but if he wants to be traded somewhere, it at least gives that team more confidence that they could re-sign him in 2019.
According to ESPN's Pablo Torre, the Knicks are the team Irving wants to be on "very badly."
https://twitter.com/AlexKennedyNBA/status/890628036097302528
"I got a phone call, and the voice on the other end of that phone call is a trustworthy person," Torre said. "And he was saying to me that Kyrie Irving very badly wants to be a New York Knick. Kyrie Irving wants to come home."
Torre might not be a traditional newsbreaker, but he is a very good sports journalist and the fact that he would say this on national television lends me to believe that he has a legitimate source offering him this information. Again, this means nothing for Cleveland, but maybe it sends a message to New York to find a way to make a deal happen.
That will likely be a difficult proposition, as the Knicks don't have much in the way of assets. There are reports that the Cavs don't have much interest in Carmelo Anthony, as he plays the same position as LeBron and Kevin Love, and the Knicks aren't going to part ways with Kristaps Porzingis to get Irving. So, the Knicks would almost assuredly have to figure out a way to bring a third team into the mix, but even then, it's hard to see the assets they could flip to make a trade a reality.
New general manager Scott Perry worked some magic on Sacramento this offseason, and Knicks fans will hope he can do the same to somehow turn Carmelo Anthony and some combination of picks and players not named Porzingis into Irving.