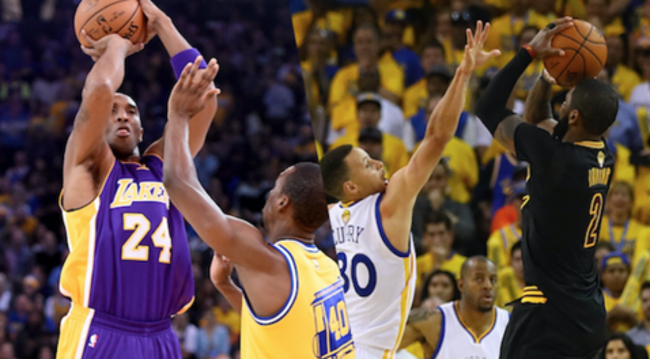 A lot of things needed to happen for the Cleveland Cavaliers to pull off their epic Game 7 win on Sunday, among them LeBron James' superhuman chasedown block on Andre Iguodala and Kevin Love d-ing up the reigning two-time MVP like his future with the Cavs depended on it.
But they also needed big-time buckets, and nobody knows more about getting buckets than Uncle Drew himself, Kyrie Irving. So in a game that featured 20 lead changes and 11 ties, on their most important offensive possession of the season, the Cavs turned to their deadliest offensive weapon. And he delivered.
The question is…how? How, under all that pressure, did he coolly knock down the shot that would put the Cavs up for good and deliver the city of Cleveland its first championship in more than 50 years? The answer? By channeling his inner badass, of course. Via SI.com:
"That moment right there happened, and I was like 'ok, I'm fine' " Irving said. "And all I was thinking about in the back of my mind was Mamba mentality. Just Mamba mentality, that's all I was thinking."
Yes, Kobe Bryant may be retired now, but he's left an indelible mark on an entire generation of NBA players. That became crystal clear with the outpouring of love and support he received all season long during his farewell tour. And Irving certainly won't be the last player to pay homage to one of the greatest clutch players in NBA history.
(SI.com)