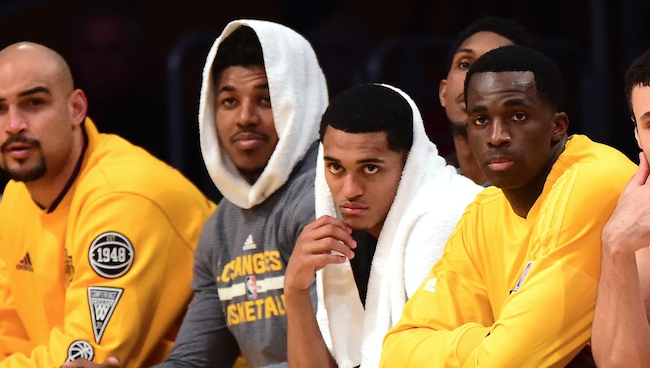 The day after sexual harassment claims were levied against Nick Young and Jordan Clarkson, the Los Angeles Lakers didn't confirm or deny accuracy of those allegations. Instead, the purple and gold managed to side with their players and the woman who brought their purported verbal assault to light.
After speaking with Alexis Jones in addition to Young and Clarkson, Lakers spokesman John Black released a statement concerning the accusations – one that "supports" both the former and latter parties.
"We've looked into the situation and spoken to Alexis Jones as well as to Nick Young and Jordan Clarkson. Based on these conversations, our conclusion is that there are different interpretations of what happened. We support Nick and Jordan and believe what they told us about the incident and their actions. We also are supportive of Alexis and her feelings about what happened, about women's rights, and of the fine work Alexis is doing with her organization. I had several conversations with Alexis and her publicist, and tried to arrange a meeting between her, Nick and Jordan. Unfortunately, Alexis's schedule didn't allow for this to happen yesterday. We will also continue to stay in touch with her about the possibility of addressing our team about the important issues with which she's involved."
Jones, who works with athletes of both genders to promote female respect and empowerment, issued a declaration of her own hours before the Lakers'. Despite facing so much negativity since outing the Los Angeles guards on social media Sunday night, Jones says she "wouldn't have posted the photo" if she'd known Young and Clarkson played in the NBA.
Why? "Athletes are [her] friends, colleagues, and heroes."
We'll keep you updated on this story if and when updates become available.
But at the moment, it seems the Lakers, for better or worse, consider this matter closed. The only thing that might continue drawing attention to it is any further action by Jones.
[Lakers]