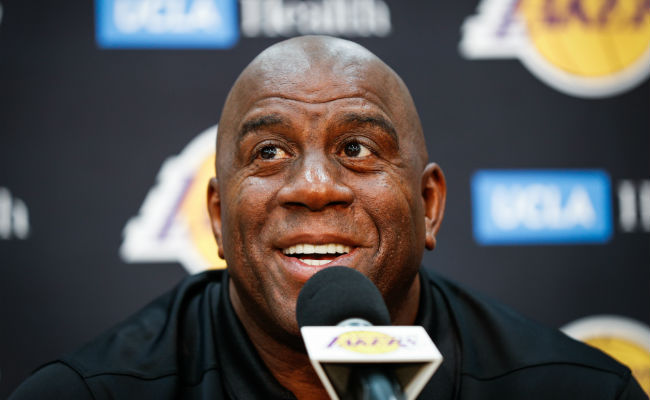 The Los Angeles Lakers have enough money to go after a top flight free agent, even after the eventual trade for Anthony Davis, and it appears they will swing for the fences when it comes to Kawhi Leonard.
Fresh off bringing the first ever title to the Toronto Raptors, Leonard will apparently field free agent meetings with at least a few teams outside of Toronto in the coming days, and the Lakers appear to be one of them. Free agency has evolved in recent years, and these meetings are a lot more than a team renting out a conference room and building a decent PowerPoint presentation with dollar signs on it. Teams go big these days, and the Lakers apparently want to wow Leonard with star power.
The problem is, one of the biggest stars for the Lakers is now a former employee, and the league won't allow him to take part in a meeting with Leonard. On Friday, reports surfaced that Magic Johnson would be among those involved with a Lakers pitch. But ESPN's Ramona Shelburne said, while Johnson wants to help the Lakers, the NBA won't allow it.

What's more, it seems that the Lakers had the right instincts here: Johnson was apparently asked for by name by someone on Leonard's team.
That seems to be confirmed by another Shelburne report, which quotes Magic as saying a friend reached out and told him Kawhi wanted to meet.
Beyond Johnson, there are conflicting reports about whether LeBron James and Anthony Davis — the latter of whom is not technically on the Lakers yet — will be part of the meeting, too.

Later on Friday it seems some of the roles on this potential meeting have been settled.
The big thing here, though, is that Johnson was both wanted and willing to do this before word from the NBA reached him that it wouldn't be kosher. Johnson is still close with Buss, and he clearly wants the Lakers to do well. He just, you know, wants to tweet about it as well, and so this isn't really a surprise as much as it's amazing that Johnson really did quit his job with the Lakers to still help them for free and use a social media app. Whether any of this works to lure Leonard to Los Angeles is unclear, but it's obvious the Lakers think star power can help.