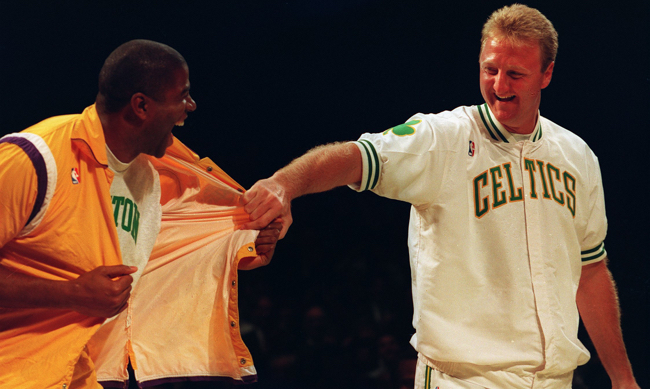 NBA legend and president of the Indiana Pacers Larry Bird joined the Sirius XM NBA channel for an interview and said he would have never teamed up with Magic Johnson back when they were rivals. Previous NBA generations tend to have a "I'd rather beat him, not play with him" mentality, but the Boston Celtics legend also said he wouldn't have made a move like that "because I had great players around me and was in a great situation."
Bird's comments, of course, come in the wake of Kevin Durant shocking the basketball world by choosing to join the Golden State Warriors in free agency. But aside from Durant leaving a good situation with the Oklahoma City Thunder for a hopefully better one, there are some distinct differences between Bird's era and today.
Durant is one of many free agents to make a move like this in the modern NBA. There were the Big 3 in Boston, the attempt at a Big 3 in New York, and of course LeBron's "Decision" to team up with Dwyane Wade and Chris Bosh in Miami. Durant's move was surprising, but nothing we haven't seen before. None of the players involved in these example faced off in the playoffs before joining forces, but that bring us to the next point.
Golden State vs. Oklahoma City pales in comparison to the rivalry Boston had with Los Angeles. The Celtics-Lakers rivalry goes back generations, even before Bird and Magic, although their era took the rivalry to a new level. These two teams truly hated each other. In this year's playoffs, there was that one time when Westbrook laughed at the idea of Steph Curry playing defense and the time Draymond Green kicked Steven Adams in the nether-regions, but then we found out Green does that to everyone – it wasn't personal, basically.
All of this to say that times have changed. This is a new era during which a team needs all the superstars it can get to truly become a dynasty. We've seen teams go back-to-back, but we haven't seen a three-peat since the Shaq and Kobe Lakers, and that team was absolutely stacked!
Bird did also say that he "understands today's free agent market" and is okay with "guys moving to whatever team they choose as long as everything falls within the rules." Maybe Bird, then, should have a sit down with Charles Barkley and explain his point of view.
(h/t Sports Illustrated)