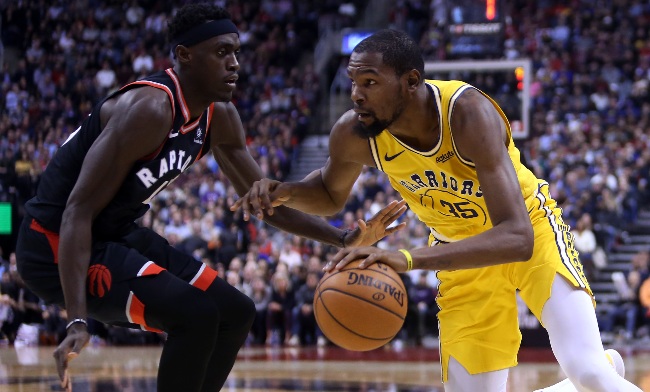 One of the breakout stars of the early portion of the 2018-19 NBA season is Toronto Raptors forward Pascal Siakam. Now in his third year in the league, Siakam is averaging career highs across the board and is a key part of one of the NBA's best starting lineups. His ability to do anything the Raptors ask him to do on either side of the floor — work as a screener, a spot-up shooter, a ball-handler, or floor-spacer; a rim-protector, space-defender, or lock-down Iso guy — is one of the biggest reasons that Toronto has sprinted out to the top of the Eastern Conference.
Siakam is still just 24 years old, but he's up to 14.8 points, 6.5 rebounds, 2.3 assists, and 1.1 steals in 29.7 minutes per game this season. Oh, and he's shooting 36.6 percent from deep on nearly two attempts per game. He's leading the entire NBA in both true shooting percentage and offensive rating, he's shooting 80 percent at the rim, and he's both using more possessions and creating his own shot more often at the same time he is scoring more efficiently than ever. It's bonkers.
On Thursday night against the Warriors, Siakam showed off every single tool in his box. He hit threes. He beat closeouts. He made the right passes. He blocked shots. And he played fantastic individual defense. It was a marvel. In this week's edition of Last Night, In Basketball, we dig in on the Raptors' young big man.
Last Night, In Basketball is a video breakdown series from the basketball mind of Jared Dubin. You can see the videos for free on Twitter and YouTube, but if you enjoy the work and want to see more, you can pledge your support on Patreon.