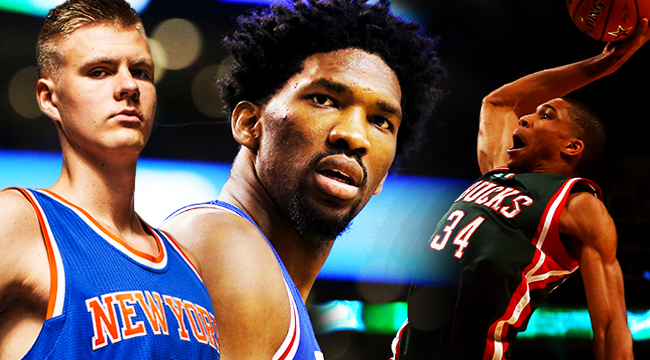 There's something really fun about watching talented dudes figure it out. Think of a pitcher with nasty stuff cutting out walks and becoming unhittable, or a defensive end who turns their physical tools into becoming a terror off the edge.
The first month of the NBA season has been defined by three players doing this. We knew that Giannis Antetokounmpo, Joel Embiid, and Kristaps Porzingis were three of the most naturally talented basketball players we've seen in some time — there's a reason they have all been called "unicorns" over the last year or so. All of them possess unique skill sets in one way or another, but this season, they've managed to expand their games in one way or another, turning into appointment viewing for anyone who has League Pass.
The achilles heel in Antetokounmpo's game — the ability to shoot, namely from three — still exists. Here's what his shot chart looks like early on this season, via Stat Muse.

Let's compare that to his shot chart from last season.
So he hasn't, like, developed a killer jump shot or anything like that. But what he has done is realize that he is a 6'11 point guard with a gargantuan wingspan and a combination of speed/strength/athleticism/inherent basketball skills that no one else on earth possesses. Antetokoumpo has used that to his advantage, and it has led to him averaging career highs in points per game (30.6) and field goal percentage (57.8 percent). His season also includes the following performances:
Oct. 18 at Boston — 37 points (13-for-22 shooting)
Oct. 21 vs. Portland — 44 points (17-for-23 shooting)
Nov. 11 at Cleveland — 40 points (16-for-21 shooting)
He hit a grand total of one three on five attempts over those games. He is insane.
Also insane has been the start to the year we've seen out of Embiid. He has missed two games this season. This is because the team has had one back-to-back on the year, but he's still played in 12 of Philadelphia's 14 games, which is an encouraging sign for a player whose main concern is the ability to stay healthy.
He is still on a minutes restriction, although he has played more this season. And when he has played and he's had the opportunity to impose himself on a game — which he has done less consistently than either Antetokounmpo or Porzingis — it has been breathtaking.
Take, for example, his thorough beatdown of the Los Angeles Lakers. Embiid has shown flashes of everything he did in that game throughout the season: We've seen him bust out Olajuwon-esque low post moves, we've seen him hit threes, we've seen him clean up the glass and be a defensive menace, and we've seen him have the ability to set up his teammates.
But we have never seen him do all of that stuff in one game, at least to the extent that he did it against Los Angeles. This is the promise of Embiid and the thing that makes him a must-watch player every night.

Lastly, there is Porzingis, who has embraced the challenge of being a superstar in New York City in the aftermath of Carmelo Anthony's trade to Oklahoma City. It's a mantle that plenty of athletes have been given, but for many, the spotlight can be way too big.
This has not been the case with Porzingis, who seems to love that he has the opportunity to show why he is a superstar. Like Antetokounmpo and Embiid, Porzingis has always been brimming with talent and has shown flashes of himself putting it all together over the last however many years.
But unlike Antetokounmpo (who has been the man in Milwaukee for a few years) and Embiid (whose situation has been unique ever since he was drafted, but he's always been the team's superstar), Porzingis is new to the whole "be the face of our franchise" thing. And he's not just being given this role anywhere, he's accepting it in New York, a city that is harsher on its athletes than any other in the United States.
So far, this has worked out. Porzingis is third in the league in scoring at 28.9 a game, and he's not just shooting more than ever (his 21.2 field goal attempts is a career-high), but he's shooting as well as he has at any point in his career. His 40.6 percent clip from three is the best he's ever shot the ball, as is the 49.3 percent field goal percentage.
There's also the fact that he just looks like he wants to take over games. That's something all three of these players share, although for Porzingis, it's even more prevalent because his teammates are more willing to defer to him, as evidenced by the fact that his usage percentage (35.3 percent) is higher than that of either Antetokounmpo (33.3 percent) or Embiid (33.8 percent).
Right now, we are living in the golden era of big men whose skill sets mix the best of all five positions. This is thanks to the three League Pass Players of the Month for the start of the season, because when Giannis Antetokounmpo, Joel Embiid, and Kristaps Porzingis step on the floor, all three of them consistently show glimpses of why they all are going to be in the running for the title of best basketball player in the world in the not too distant future. The NBA is being taken over by unicorns, and it's up to everyone else to try and figure out how to keep up with them.