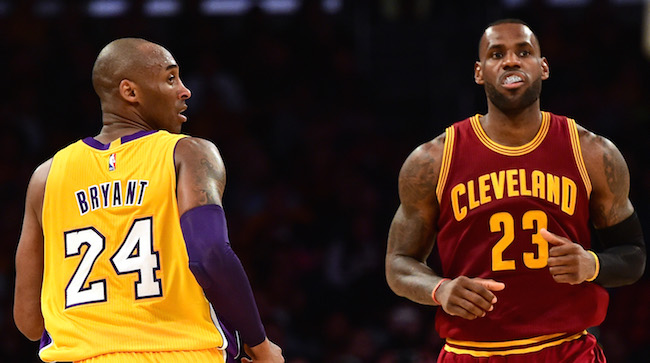 LeBron James and the Cleveland Cavaliers' fate seems all but assured after a crushing loss in Game 3 to go down 0-3 to the Warriors in the NBA Finals. James and teammate Kyrie Irving did their best to carry the team to a victory, but ran out of gas late as the Warriors brought too much firepower to the table.
It appears, barring something historic and entirely unbelievable happening, that the Cavs will fall to the Warriors in four or five games, giving Golden State its second title in three years and validating Kevin Durant's decision this past offseason. The apparent gap between the Cavs and the Warriors that this Finals is showing means that chatter about James' future and pending free agency in 2018 has, once again, heated up.
When James returned to Cleveland and began signing his short-term, player option heavy deals in 2014, he left open the door for free agency rumors to kick in every couple of years. James can hit the market in 2018 and, having already fulfilled his promise to Cleveland to bring the city a title, there are some that believe James could choose to leave #TheLand next summer for one of two reasons.
The first reason is to go get a championship on a different team if the Cavaliers can't make enough substantial changes to their roster to compete with the Warriors. The second reason is to go play somewhere with his friends. According to Kevin O'Connor of The Ringer, either of these options could lead James to Los Angeles, where he has a home and a budding media and entertainment company.

O'Connor cites multiple league sources that have speculated that James would consider joining either the Lakers or the Clippers in 2018. The Lakers would be for one last title run, should L.A. land Paul George and develop some of their young core and acquire the right veteran bench help. The Clippers would be for the chance to play with his best friends, so long as Chris Paul re-signs this offseason. James and his old Heat buddy Dwyane Wade will hit free agency and the Clippers have been linked to a Carmelo Anthony trade for some time now.
The banana boat reunion in L.A. would certainly be an interesting finish to James' career, as would an attempt to resurrect the Lakers' franchise along with Paul George. For me, the Clippers scenario feels far more likely than the Lakers one. We have to remember that LeBron James is the Dominic Toretto of the NBA, valuing family more than anything else. James ensures those close to him get rewarded handsomely — see, Tristan Thompson's contract — and has softened ever-so-slightly from his mercenary days (leaving for Miami) to become a beloved character.
With that in mind, it seems far more likely that if he wants to go for titles, he sticks it out with Cleveland and hopes that the Warriors eventually come apart at the seams rather than hope that he can create a new contender in Los Angeles with George and some young, yet unproven talent. However, bringing the banana boat crew together in Los Angeles wouldn't be a move to win a title, it'd be more like a years long family reunion — one he's already noted as a dream of his — and the only thing I can think of to drag him out of Northeast Ohio again would be family.