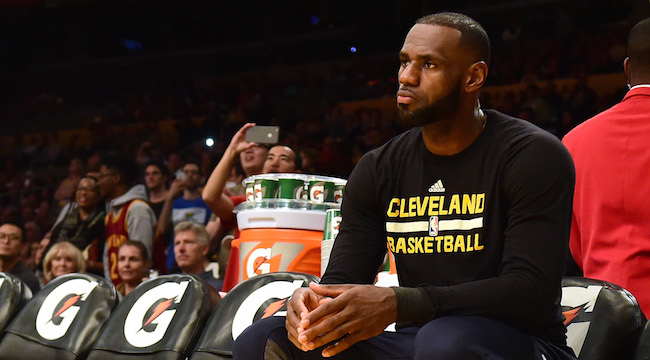 The Cleveland Cavaliers were the latest team to anger fans and television networks by resting their biggest stars during a nationally broadcast game. Cleveland sat LeBron James, Kyrie Irving and Kevin Love on Saturday night on the first game of a back-to-back, meaning for the second Saturday night in a row, ABC's primetime NBA broadcast was lacking the best players.
This made a number of fans upset and caused Jeff Van Gundy to launch into a rant about how it should be a "prosecutable offense" for teams to rest players when fans bought tickets to a game specifically to see those star players. The anger directed towards the Cavs (and the Spurs and Warriors a week prior) is understandable, but also fairly unavoidable without drastic changes to the NBA schedule.
Doc Rivers wants the league to not schedule nationally televised games on back-to-backs, which wouldn't eliminate players resting in them completely but would cut down on it. There are others that have suggested eliminating back-to-backs altogether, with one of the solutions to doing that being to shorten the season. That idea works in theory, but no one can really believe the league or the players would be willing to possibly forfeit revenue to avoid rest.
LeBron James, one of the stars at the center of the most recent resting controversy, is one of those realists and told reporters on Sunday night that the NBA is just going to have to deal with it.
"I don't think the NBA can do anything about it," James said. "At the end of the day, it sucks at times where certain guys have to rest, but certain guys need rest. And it's a long, strenuous season and the NBA does a great job of putting the schedule together as best as they can. You're going to have back-to-backs. You're going to have certain games where certain things fall on certain nights, but a coach's job is to figure out a way for their team to compete for a championship, not compete for a game."

With sports science getting more advanced and there being a better understanding of ways to keep players healthy and extend their careers, the value of rest becomes more and more important. James knows that teams are going to do what they need to with regards to rest to ensure players are healthy and as fresh as possible for the playoffs, and players will accept a coach's decision to rest them even if they want to play.
"Obviously it sucks at times because certain games you only play in certain cities once, or you play certain teams once on their home floor, but for me personally, I want to play in every game," James said. "I wanted to play last night, but my coach felt like it was best that I didn't play last night, so I'm going to go with my coach and he's never steered me wrong."
Cavs coach Tyronn Lue was also asked about the players resting, and more specifically the backlash that came from his decision to sit his Big 3. Lue told reporters that he thought it was "stupid" and explained the reason for giving all three a rest.
"I mean, it's stupid," Lue said. "Kyrie didn't come back the game before, knee soreness, Kevin just had his first game back, we needed two days in between each game. It's OK, though, whatever. It's stupid."
This is, sadly, an issue that doesn't appear to be going away anytime soon. Fans are going to have to be wary of stars resting when they come to their city, and it's just going to have to become party of the ticket buying process to look at the team coming into town's schedule. If they're on a back-to-back maybe think twice before dropping hundreds of dollars on tickets.
Stars are going to get rested. Fans and Jeff Van Gundy will get mad. The NBA world will keep turning — or, do whatever a flat Earth does.
(h/t Complex)