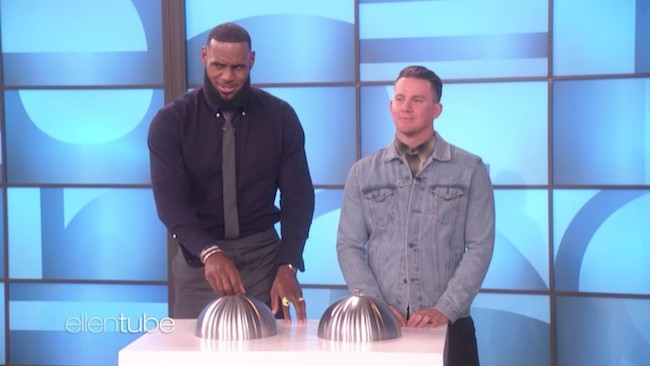 LeBron James is extremely committed to the Akron community even as he's taking his basketball career to Los Angeles. James opened the "I Promise" School in July, a public school funded in part by James' foundation that will look to serve underprivileged youth in the area.
James is willing to do whatever he can to provide more resources for the school, and he proved that on Wednesday with an appearance on Ellen, alongside Channing Tatum. The two took turns doing different dares on camera, with Tatum pretty clearly getting off easy — granted, that makes some sense considering he was just along for the ride to help out and it is LeBron's school.
In any case, Tatum was there doing a "sexy crawl" and trying to lick peanut butter off of his nose, while James was doing hands-less tequila shots (he did so with impressive form), eating ice cream covered in hot sauce, and licking kiwis while blindfolded.

The funniest part is definitely LeBron saying he initially thought the kiwi was "an ass" before deciding Ellen wouldn't make him lick someone's ass on network television in the middle of the afternoon and reconsidering his guess. He was correct and it was indeed a kiwi, not a hairy ass as initially feared by LeBron.
They aren't exactly the most difficult or challenging of dares, but they managed to get another $100,000 from WalMart for the "I Promise" School, and that's pretty cool.