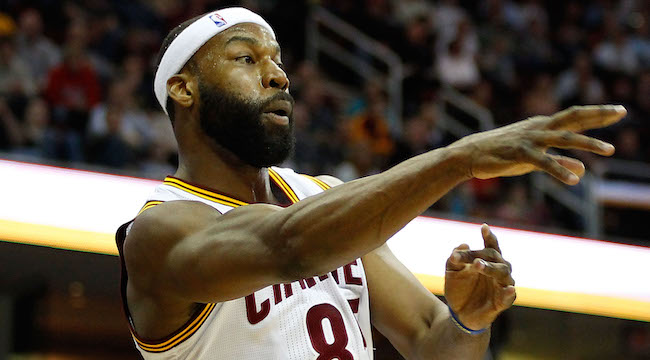 The Cleveland Cavaliers remain the overwhelming favorites to represent the Eastern Conference in the NBA Finals but things aren't going well right now. LeBron James isn't happy with the roster around him and the perceived lack of financial investment in talent. For good measure, he's even unhappy with the most prominent NBA analyst on the planet and Cleveland has lost four of the past six games. Have no fear, though, as a potential savior has emerged for the Cavaliers.
That savior? Baron Davis. No, really. Sam Amick of USA Today brings word that the two-time NBA All-Star "is known to covet the job and insists he could do it well so long as he had two weeks to get into tip-top shape" and this is a fantastic notion. For starters, Davis is now 37 years old and hasn't played in the NBA in four years. Beyond that, he was only mildly effective in a six-game D-League stint last season.
At his peak, Davis was a phenomenal player. Over a seven-season stretch from 2002 through 2008, the former UCLA guard averaged 19.8 points and 7.9 assists per game while flashing obscene athleticism and burst. If that player was coming back, the Cavaliers and every other NBA team would be interested beyond measure and he wouldn't have to ask twice.
Unfortunately, no matter how much fun it would be for the Cavs to add Davis at his peak, that probably isn't the case. The same report indicates that 40-year-old point guard Andre Miller could also be interested, lending fuel to the fire that every free agent guard could be petitioning to join the party in Cleveland. The Cavaliers are already set to work out Lance Stephenson, Kirk Hinrich and Mario Chalmers this week, and it's possible more names could be on the way before the reigning champs settle on their next addition.