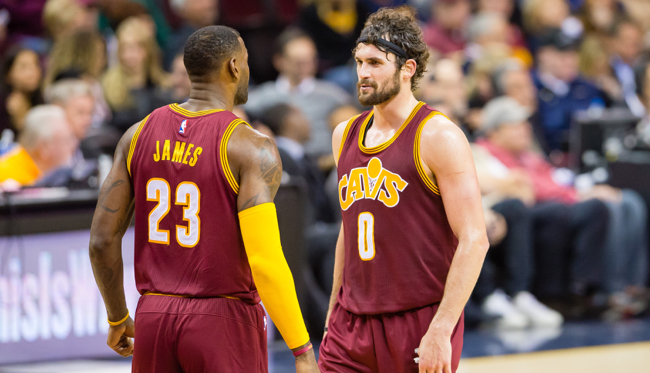 There were whispers about it all of last season: LeBron James and Kevin Love weren't on the best of terms despite cordial relations in front of the media. Their icy beginning together in Cleveland reached a head when James appeared to subtweet Love before LeBron backtracked and said it wasn't solely about his new famous teammate. The pairs' sometimes frosty body language — God, they really did get the glare of a lens normally reserved for movie stars — was given some much-needed context with Jason Lloyd's recent feature for the Akron Beacon Journal.
According to Lloyd, James was annoyed with Love for coming into training camp last season out of shape — this after LeBron had made one of his first calls to Love following his Decision 2.0.
Yet from almost the moment Love arrived, the relationship seemed to sour. James went to great lengths to get him here, and now team officials concede James didn't treat him very well once he arrived.

In truth, James was frustrated in part because Love showed up out of shape. He didn't work out much at all the summer he was traded here and he wasn't the player James was expecting. His legs bothered him all season. His back was hurting. All of the parts were connected and none of them were firing properly.

James loves talent and he loves playing with elite talent. Love's physical condition prevented him from being the player James thought he was getting. As a result, James gravitated toward Kyrie Irving and Love never fit well into this system.
It was clear earlier last season that LeBron allied more with Irving on the court than with Love, but the triumvirate of all-stars seemed to reach a natural rhythm together by the time the playoffs rolled around and they had rattled off wins in 33 of their final 42 games.
Then, Love had his arm wrenched out of its socket against Boston, and a healthy Cavs team never got a chance to see what they could do in the real season that starts at the end of April.
Since then, LeBron claimed he wouldn't re-recruit Love this past offseason when both were free agents. But Love re-signed in Cleveland for the max anyway, and the two had a seemingly impromptu pool-side meeting where they met to discuss their future together in Ohio.
Now, LeBron is championing Love as the focal point of Cleveland's offense this year, something the former Timberwolves star is quick to laugh off to Lloyd.
"I don't know if that quote is completely true," Love concedes, "but I'm going to treat it like a big opportunity for me and a big responsibility."
Now that Love's in shape, using him more in Cleveland's offense is probably the best way to save LeBron — and the soon-to-be-returning Kyrie Irving — for April and May.
Now Watch: Is Stephen Curry About To Have The Greatest NBA Season Ever?