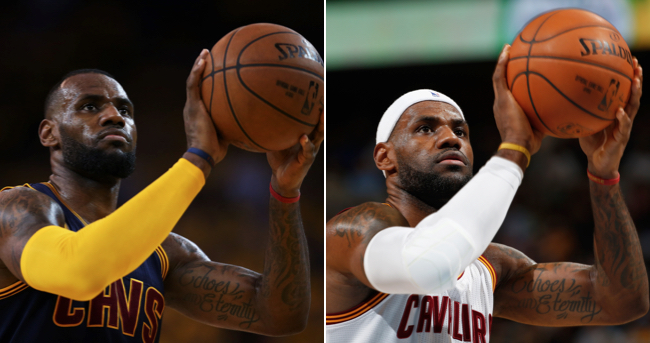 People really seem to care about whether or not LeBron James wears a headband. This ties into the chuckles his escalating hairline seem to produce because the average age of basketball fans veers young (this is a good thing, unless you're an old fogy like we are). While the hairline is something conspiracy theorists will continue to track, we know whether or not LeBron is using a head band. We also know about his other on-court accessory — no, not the kicks — the arm sleeve.
The fine folks at the nbaayy Tumblr compiled LeBron's shooting splits from this past NBA season to each permutation LeBron can have with an arm sleeve and a headband. Here are the results.
As you can see, LeBron shoots best rocking a headband and an arm sleeve on his right (shooting) arm, followed closely by an arm sleeve on the left arm with a headband. Except, he's not as consistent from the stripe that way. We do know he struggles from everywhere when he ditches the headband like he abruptly did this past season to fit in with his teammates.
Then again, James sports his best overall field goal percentage without a headband, but with a sleeve on his left arm. Man, this has us more confused than we were before we saw it, so we can only imagine how LeBron must feel.
Even though he was sans headband against the Spurs in Game 6 of the 2013 NBA Finals, overall LeBron is more comfortable keeping the sweat out of his eyes.
At least those onerous sleeved jerseys LeBron disliked so much are largely a thing of the past, thanks — in no small part — to his meeting with Adam Silver.